Continuing our Jukebox Journeys through Glasgow, Gemma Brown visits an indie venue with a record store that is a (not so) secret source of at least one of the city's greatest jukeboxes.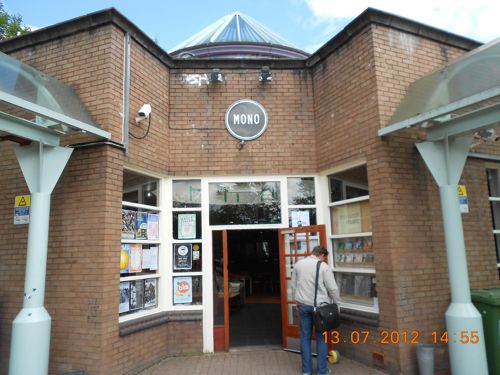 As soon as you enter the light and spacious venue the hipster atmosphere hits you. A colourful bar, a microbrewery where they brew their own ginger beer and lemonade (organic of course) and a record shop – this is the combination of essential elements that has enabled Mono to become one of the most sought after indie venues in Glasgow.

Mono café/bar is another treasured music venue in Glasgow. Situated in King's court just across from the 13th Note it too offers a vegetarian and vegan menu. Unlike the 13th Note and Nice N Sleazy, Mono is not renowned for its jukebox. Instead, Mono have their own in-built independent record shop Monorail. From opening until 7pm each night the music in the venue is provided by staff from the record shop choosing from the rich and diverse selection the shop has to offer. This unique characteristic has allowed Mono to give their customers something found nowhere else in the city.

Visiting Mono recently on a humid Friday afternoon, I met record store employee Steven McRobbie to find out about the venue's in-house, large scale, free, chosen-for-you jukebox. I was curious to know who chose the music on a daily basis and if there were certain things that had to be played? Steven told me that it was the Monorail staff that chose the music and it was reflective of their own personal tastes but they try to keep a calming and chilling vibe.

Looking through the big selection of vinyl it was easy to see why Mono has gained a reputation for their music. They have a huge, eclectic collection of records from the deepest underground circuits that ever were and are. No wonder Nice N Sleazy's managers regularly come here to select the most popular and contemporary music to suit their own famous jukebox.

What might you typically hear playing in Mono? Steven told me that Brian Eno was a favourite but it varies and you will hear things from 70's Brazilian pop to world music to psych from a wide range of underground genres. And what happens once the record store closes at night? Steven explained that the bar staff took over choosing from the selection in Monorail and their own iPod's – as well as DJ's and the regular live performances.

Through the day Mono has a laid-back, indie atmosphere with the focus on the café and the record store – a place where regulars enjoy a relaxed browse through the record collection whilst listening to some of the best artists the hipster scene has to offer. Monorail itself is a rarity; independent record shops are far and few between. Altogether, the venue is a music gem in the Merchant City.

To hear more about Mono and the bands who play there download Glasgow Music Tour Route 1.