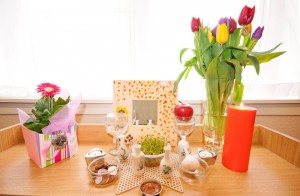 Guest blogger and Walking Heads contributor Rahe Milani takes a look at yesterday's Persian New Year.
Yesterday was our second Persian New Year in Glasgow. It's one of the biggest celebrations of the year back in Iran and every single Iranian person inside or outside Iran celebrates the event.
Nowruz (meaning "(The) New Day") is the name of the Persian New year. Nowruz marks the first day of spring and the beginning of the year in the Iranian calendar, which is on March 20th. "Now" means New and "Ruz" means Day.
Nowruz is a fun time for all Iranians, old and young and we have different Nowruz traditions. We start celebrating the new year with "Chahar Shanbe Soori". It takes place before the last Wednesday of the old year, well actually Tuesday night! People build fires and they jump from the fire and sing a little song:
Zardi-e Man az to
Sorkhi-e to az Man
Translated: I will give you my yellow colour (sign of sickness), and you will give me your red colour (sign of healthiness). This is because in  older times when Iranians where Zoroasterin, they believed fire would cure people and take the sickness away.
We calculate the exact astronomical start of the Spring and take that as the beginning of the year. This exact second is called "Saal Tahvil." This year it was at 5:15 am and my mom's phone call woke me up early in the morning. We were supposed to be awake by that time but we couldn't make it and this year we missed "saal tahvil" . Iranians believe that the way you start your new year, will affect the whole year, so it seems we'll be asleep for the whole year!
Before the new year, people start cleaning their houses (Khaane Tekaani), they buy new clothes, and they grow green grass (Sabze). For the actual Saal Tahvil, they put seven items on the table that all start with "S". This is called "Haft Seen". These seven things are: Seeb (apple), Sabze (green grass), Serke (vinager), Samanoo (a meal made out of wheat), Senjed (a special kind of berry), Sekke (coin), and Seer (garlic). Sometimes instead of Serke they put Somagh (sumak, an Iranian spice). There are some other items on the table like Gold fish, mirror, candles, and flowers. Here in Glasgow I couldn't find senjed so I replaced it with Sa'at (watch)!
After the Saal Tahvil, people hug and kiss each other and wish each other a happy new year. During the holidays, people go to see their relatives. Foods and snacks are usually prepared, snacks are "Aajil"(a combination of different nuts with raisins and other sweet stuff) and fruits. When the guest is leaving, the host gives some "Eidi" to the kids, this Eidi is often some money. Since we don't have any Persian friends or relatives in Glasgow to visit, we just treated ourselves with nice Persian cuisine and we went to Persia, a nice Persian restaurant in Western Road and we had Persian Kebab instead of "Fish and Rice" which is the traditional dish of the day.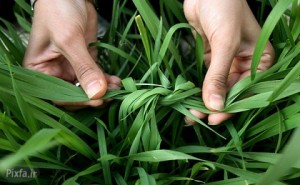 At the thirteenth day of the new year, Iranian people go on a picnic. This is called Sizdah (thirteen) Bedar. On this day, people throw the Sabze away, they believe Sabze should not stay in the house after "Sizdah Bedar" otherwise it will bring bad luck to their houses. Another popular tradition of Sizdah Bedar is the knotting of blades of grass by the young unmarried girls in the hope to marry soon and expressing their wish and hope for good fortune in life and love. It has been documented that in the Iranian culture, the knotting of the grass represents love and the bond between a man and a woman.

Let's hope for a sunny day in Glasgow on "Sizdah Bedar." Last year we went to Kelvingrove Park and it was a beautiful sunny day.