When the shutters come down the shop is closed but something magical happens in the street outside.  At least it feels as if there could be a touch of magic about the 'after hours' Shutter Project which will be launched during LeithLate.  Not least because the first shop shutter to spring into new life belongs to The Gamesmaster…
"Think of the level selections for Super Mario 3 or Yoshi's Island" says Morvern Cunningham, creator and co-ordinator of Edinburgh's imaginative new street festival, LeithLate. She's describing how Edinburgh-based artist Jamie Johnson is likely to approach the first piece of shutter art which will be revealed  during a night of creative activity on 28 June.
Very briefly: the Shutter Project is a new Leith arts initiative funded through I Love Leith (and also part of the Building Stronger Town Centres Programme backed by City of Edinburgh Council). It aims to bring together local artists and businesses to transform that closed-for-business feeling created when the shutters go down at the end of a working day.
But there is a nice personal twist to the story. Jamie Johnson the artist selected to start the project is a graduate of Duncan of Jordanstone art college who just happened to grow up in a flat opposite the Gamesmaster store in Leith Walk.
"He was a Gamesmaster customer from an early age," says Morvern, "getting his first Sega Game Gear around the age of eight and making regular visits to the shop with his mum as a boy, spending a lot of pocket money in the process!"
Even as we write (rain clouds glooming, thunder growling round the edges),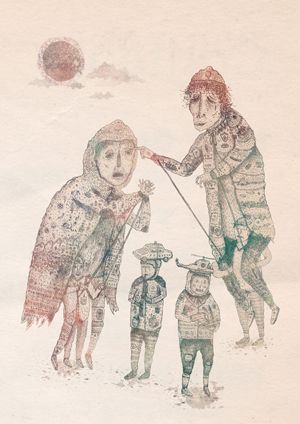 Jamie is working on finishing touches in close communication with Dave Wilson who has managed the Gamesmaster business at 287 Leith Walk for the last twenty years.  The result will be a 'bespoke artwork exemplifying the business in a 2D 'gaming landscape'.

"It's exciting. There seems to be a fair amount of attention around the project, the pressure is on!" says  Jamie in response to our email.

Of course we can't give you a sneak preview but Jamie kindly sent us a selection of his work which might just give a clue to the imagery and other-worldly mapping you will discover bringing a touch of magic realism to the street next week (you can see more of Jamie's work on his website here).

Jamie's shutter will be the first of six Leith Walk artworks, each painted by different local LeithLate artists – others will include the work of respected Leith artists such as Rabiya Choudhry and Bernie Reid – who get a small fee for their time and materials through the Shutter Project.   For more info, contact Sarah Woodford at CEC via sarah.woodford@edinburgh.gov.uk or Morvern via leithlate@gmail.com

And for the full fantastic programme of the LeithLate spectacular visit the LeithLate website where you can wander up and down David Lemm's interactive map.  We've booked our tickets for the After Party by the way. Sounds much too good to miss.