Delighted to read a very nice review of Edinburgh Comedy Tour by Fin Wycherley and she picks up the spirit of Walking Heads beautifully.  At the end Fin issues a challenge to readers to find other audio tours in Edinburgh.  "What other wicked audio tours of Edinburgh do you know?"
We decided to take her up on it.
We should acknowledge right away that we know we are not alone. There are lots of new and not so new audio tours out there but oddly the ones we found that come closest to us are not factual walking tours but digital drama productions.  (g)Host City and Blood and Roses, two other excellent Fringe shows, are also using mobile technology to lure their audience out into the streets.  In different ways they both use real city settings – alleys and courtyards, churches and pubs – to create memories and emotions.
It's powerful stuff (we recommend both productions, by the way, especially Blood and Roses).  And the interesting thing is that art comes much closer to real life –  uncovering the true grit of the city – than conventional tourist guides.
Of course we're biased but we think Edinburgh Comedy Tour uses both fact and folklore (ok a bit of gossip too) to bring the streets to life as we explore the famous comedy venues of the Fringe and the people who played there.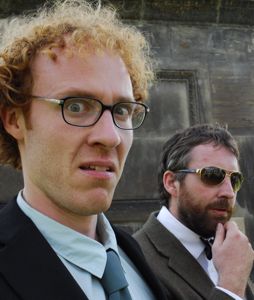 As Clare Carswell's STV interview records, the adventure trail created by Jamie MacDonald and Harry Gooch is deeply rooted in historical fact. To quote Jamie: "I think Harry was a bit scared by the amount of research that I sent to him".

Instead of presenting the audience with a list of dates and names, Jamie and Harry decided to create a story which would lead their listeners round the 90 minute tour because they need to know what happens at the next destination.

Admittedly there is room for a little exaggeration. When Harry (that's him in the foreground on the left) hears the history of certain famous landmarks – the High Court, the Assembly Halls – he goes off into improvised flights of fancy with wickedly comic results.

We defy anyone to listen to their journey from Assembly Hall to Victoria Street without laughing out loud.  That's our challenge!