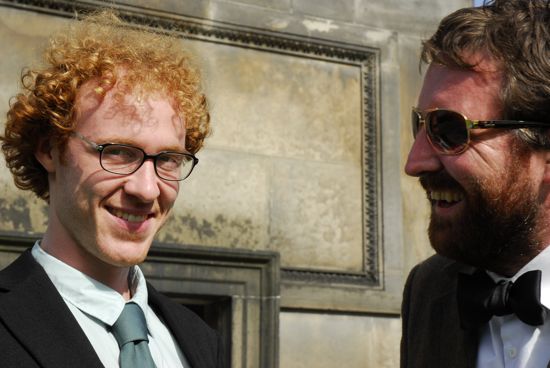 "I imagine people killing themselves laughing".  If you haven't listened to Edinburgh Comedy Tour you might do a double take at the reaction of Janice Forsyth, presenter of BBC Radio Scotland Comedy Cafe on Friday (02/09/11).  But the great comic skill of Jamie MacDonald and Harry Gooch is to make you laugh where sometimes you feel you really shouldn't.
The blind man walks into a car, falls down a well, gets attacked by a gang of drag queens…and we're killing ourselves laughing.
But then a (genuinely) blind tour guide  sees the funny side before he starts. During the interview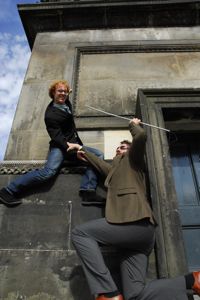 with Janice Forsyth, Jamie and Harry describe how their relationship developed as they devised a way to lead people round famous Edinburgh Fringe comedy venues.  (Oddly, they had overlapped at St Andrew's University but never met before sitting down to work up the script for the tour).

Mere history, though there is plenty of it, would be too dull, Harry decided.  The result is outrageous with what Jamie describes as  the near-death ending in St Andrew Square that has to be heard to be believed.

That's enough.  It's a great interview, on BBC Radio Scotland Comedy Cafe, and it's on iPlayer for another week.

Oh, and by the way, the tour is now downloadable to Android, App  and MP3 player.