Our Clydeside Promenade audio tour explores so much of the river city's history – but what about her-story? Over the centuries, the historical representation of women in Glasgow has been somewhat slim. Achievements have been swept beneath the metaphorical rug of history. Key women are not celebrated in the same way and to the same extent as their male counterparts.
"If you think about our civic landscape – street names, buildings, statues – they're often named after men and it begs the question, 'Have women ever done anything that is seen as a significant achievement?', because you just don't see that visibility," says Sue John, Enterprise Development Manager at Glasgow Women's Library in Bridgeton.
Luckily, organisations such as the GWL and Govan's Hidden Histories project have taken it upon themselves to set the record straight, dusting off the history books to give the achievements of Glasgow's women the recognition they deserve. The latter have even specifically set up a Women's Histories & Protests team which works to identify key figures and explore their roles in helping to shape the Glasgow we know today. Artist and doctoral researcher Tara Beall (working name t s Beall) who cordinates the project, explains that the team, "started researching histories of women's roles in Govan, women's roles in protest movements and how that links to what is happening in Govan now."
When we think of Glasgow's shipbuilding past, we may be forgiven for thinking of shipworkers as big, burly men. As t s Beall points out, however, that isn't always so:  "We know that, in the shipyards, there were tracers who would trace the patterns onto the steel that were women. We know there were polishers who did French polishing on the woodwork.
"They were part of the shipyards, they were part of the construction of the ships,"
Even when things got tense and the Upper Clyde Shipbuilder work-in campaigns began, the women stood their ground. "When you look at archival footage of these work-in demonstrations, what you see are absolute sections of women marching together," she explains. "We know these women marched alongside the men, but many of the stories are still to be uncovered and still to be better documented than they are today."
She did things that women weren't supposed to be doing in her day, and did it without shame and apology.
Isabella Elder is cited as an important female figure from this time. After the death of her husband, John Elder, she owned and ran his world leading shipbuilding business for a period of time, including Fairfield Shipyard. She undertook several philanthropic projects in Govan, including the creation of Elder Park near Fairfield, named in honour of her husband and father-in-law, which now features a statue in her memory – one of only three statues of women in Glasgow.
Elder was a strident campaigner for women's education and, as GHH's Maria Leahy acknowledges, "all of the women that came through Govan and fought tirelessly for rights and became involved in the community, making differences and changes, would've looked to Isabella as an inspiration because she did things that women weren't supposed to be doing in her day, and did it without shame and apology."
But how can we discuss key female figures in Glasgow's history without mentioning famous suffragettes? It's time to remember Helen Crawfurd and Mary Barbour and their involvement in fair rent campaigns such as the Glasgow Women's Housing Association.
GHH's Susan Haddow and Trish Caird are brimming with knowledge of these two very important women of Glasgow.
"She became a member of the Independent Labour Party and she was an active suffragette," says Haddow of Crawfurd. "She was imprisoned five times in two years and went on hunger strike three times, but it didn't put her off fighting for the rights of women".
As Govan's population grew in 1914/15, landlords began raising rent to the point where women like Crawfurd and Barbour decided enough was enough and began organising protests. "There were so many people coming to Glasgow, landlords didn't need to keep the same tenants, they could just overcharge and tenants would have to leave," says Haddow. "They had to stop so [the women] took it on and won their case."
"They were happy to pay the rents, but against the rent increases," adds Caird. "But, from the landlords' point of view, that meant they were in rent arrears. There was some strife in the area and this strife quickly spread across Glasgow."
Since its inception in 1991, GWL have devised six guided heritage walks  uncovering many hidden stories of Glasgow women. Their West End Women's Heritage Walk, for example, looks at Dorthée Pullinger, an engineer who invented a car for women, in suffragette colours, manufactured by a workforce of women. In their East End Women's Heritage Walk, they explore the more modern story of "Battling" Betty McAllister, who ran a seafood shop in the Calton which became the headquarters for her many campaigns. She famously informed the then Prime Minister, Margaret Thatcher, on a visit to Glasgow, that she could, "stick the poll tax where the sun don't shine".
The world famous Barras Market and Barrowland Ballroom were set up by Glasgow woman Maggie McIver in 1920 and 1934, respectively. "It was a sort of rags to riches tale," says GWL's Sue John. After working as a barrow girl, selling fish and fruit, Maggie and her husband began renting Barras to other hawkers. "In 1920, they opened a market on the site of the present Barras and, by the late 1920s, it became fully enclosed with static stalls".
The Ballroom, however, came about almost by accident. "[Maggie] had traditionally put on a Christmas dance and meal for the hawkers," says John. "Legend has it, they found, one year, that their usual venue was booked so, basically, she just decided to go ahead and build her own venue and that became the Barrowland's world famous venue." A gate at one Glasgow Green entrance honours McIver as the Barras founder.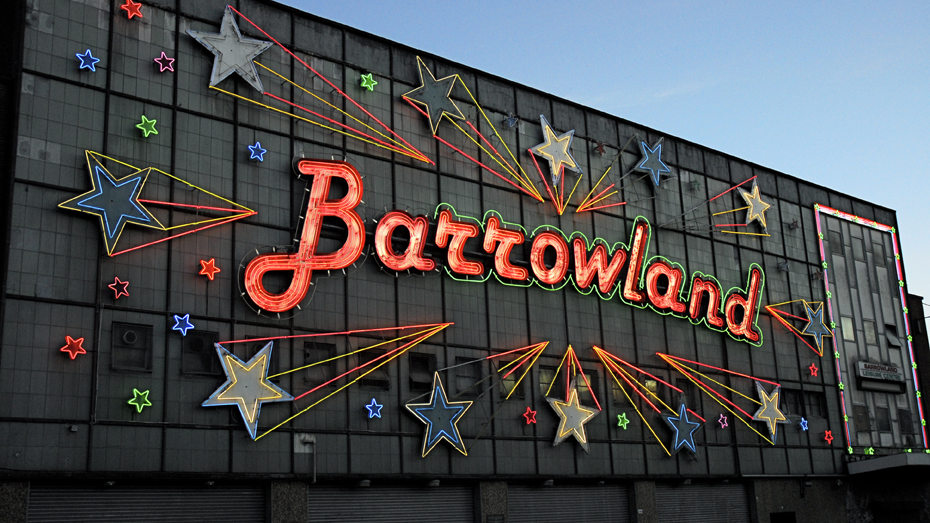 In other words, after decades of work, Sue John can answer that question: "Well, yes, women have achieved an awful lot".
Find out more about these amazing women and how they shaped Glasgow in Clydeside Promenade, our brand new audio tour for Festival 2014.
Part One (from Govan Cross to Glasgow Green) is now available for free on iTunes and includes Routes One and Two. Get it HERE. Part Two (from Glasgow Green to Bridgeton via the Emirates Stadium) will be available this week.
For more information about Govan's Hidden Histories Project and their 'Women's Histories and Protests' team, click HERE. For more information about Glasgow Women's Library, their heritage walks, archive, museum, projects, exhibitions, workshops and events, or to get involved as a volunteer, click HERE.