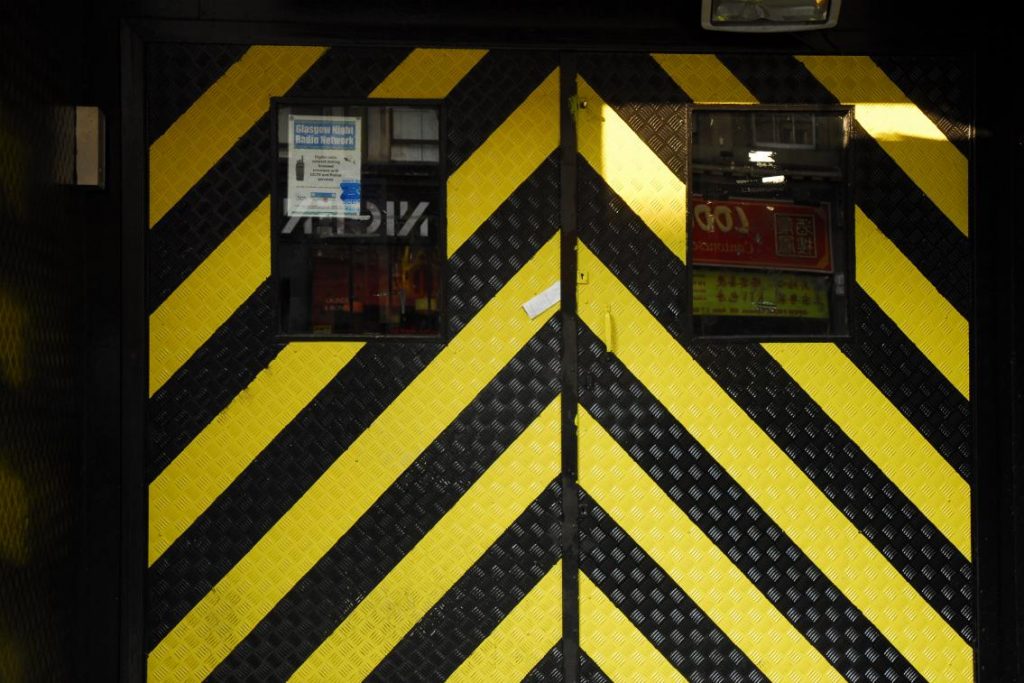 He felt the magic as soon as he walked inside. 'It's one of these places. You just felt it, you felt the music seeping through, you felt warmth…the Barrowland is one of these places, it's oozing out, saying "Hellooo".  And the Garage has got that too'. 
That's Donald McLeod, impresario and owner of The Garage who has worked his own brand of magic with Scotland's largest club at the far end of Glasgow's Sauchiehall Street. In characteristic style he captures the essence of the building that put a spell on him as soon as he walked through the door, almost 24 years ago. [It's well worth a listen HERE]
As far as we can see The Garage is not part of this year's Doors Open Days (it's open every night of the week after all). But the Barrowland certainly is. 'The grand old lady of Glasgow's live music scene' as our Glasgow Music Tour guide Jim Gellatly puts it, is one of no fewer than 116 Glasgow buildings throwing doors open from 11-17 September. (Here's the programme).
And the chances are you will also feel some magic as soon as you walk inside.
Knock knock
Across Scotland, the lure of Doors Open Day pulls in more and more people every September to an increasing number of buildings. Buildings of all kinds: breweries, bus stations, concert halls, cathedrals, mosques, museums… Each one with a different, intangible quality which, more often than not, starts at the door or gateway itself.
Open or closed. Can you tell a building by the door?
This year, celebrating its 50th anniversary, the Scottish Civic Trust, ran an inspired campaign 50 Favourite Scottish Doors  inviting everyone to nominate their favourite Scottish door.
Knock knock? We leaped at the chance. As it happens 'Knock Knock' was the name of our most successful Facebook competition (ok, our only successful Facebook competition).
For fun we had selected carefully cropped images of five doors from venues on Glasgow Music Tour and ran one a day on Facebook and Twitter. There were music prizes for the first person to identify the door each day. To our surprise we were deluged with responses and almost ran out of prizes by the end of the week.
People and places
We learned a couple of things in the process. Glasgow's music venues hold special memories for people of all ages. But the buildings themselves have a powerful appeal, starting at the door.
Maybe we're just nosey, but opening doors to see what's inside…well, that's how we've ended up exploring buildings and making audio tours about people and places.
So the SCV 50 Favourite Scottish Doors nominations make fascinating reading, with enticing doors to an extraordinary range of buildings: from House 12 (a ruined bothy on St Kilda) to Stevenson Tower (a lighthouse on the Mull of Galloway).
And our choice? A battered and graffiti-spattered doorway at 39 Bridge Street, for a while known as The Chateau. You'll find it at Stop 28 on Glasgow Music Tour and Day 27 on 50 Favourite Scottish Doors. It's not included in the Doors Open Day programme (not yet anyway) but as you can see from this year's programme you are going to be spoilt for choice anyway. And, yes, at Day 32 Barrowland is one of Scotland's favourite doors, oozing music, stirring memories!
I attended my first concert here – REM on the day I left high school. £7 to get in and during their opener, Pop Song 89, I was down at the front amongst a mass of heaving, sweating bodies. Great night! 30 years after first walking through the door, the heart still races as you enter Barrowlands and head up the stairs to one of Glasgow's best loved music venues. I had the chance to see inside during DOD '15 and was amazed to see how small the stage is. Chris Carr
Find full Doors Open Day listings HERE
And, of course, you can download Glasgow Music Tour and all our architectural tours direct from Guidigo.com HERE