Welcome to Walking Heads, come with us off the beaten track
I can imagine people killing themselves laughing. Janice Forsyth BBC Radio Scotland Comedy Cafe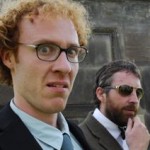 Join us on Edinburgh's Royal Mile to explore the Fringe all year round with Edinburgh Comedy Tour –  not just an audio walking tour, a Fringe show that will blow you away. This is Edinburgh seen through the eyes of blind guide Jamie MacDonald and his hapless assistant Harry Gooch.  Full of mishaps and madness but don't worry, all the accidents happen to them!
Glasgow Music Tour …
"It's made me realise what makes Glasgow the place I want to be…full of great venues and so many good places to go. It's made me feel quite romantic."
- Aidan Moffat, co-winner of Scotland Album of the Year Award after taking Glasgow Music Tour.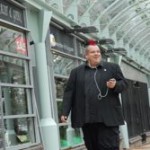 Quick question: where did Franz Ferdinand lead singer Alex Kapranos 99p nights take place?
Quick Answer: take the Glasgow Music tour. In the company of your virtual guide, DJ Jim Gellatly, discover hidden stories of Glasgow's live music scene and hear bands sharing secrets of  their favourite haunts and happenings.