In the second of our Jukebox Journeys series, Benny Robb visits one of Glasgow's most vibrant venues to sample its range of refreshments and investigate another of the 'best-ever' jukeboxes featured on our Glasgow Music Tour.
Nice n Sleazy is undoubtedly one of Glasgow's most popular and renowned music venues and when you walk through its double doors (often guarded by some of the friendliest bouncers in town) it's really not difficult to see why. Offering a fantastically individual selection of food, drinks, live music and DJ's every night of the week, the notorious Nice N Sleazy jukebox has had a lot of competition in becoming the main attraction of this buzzing city centre bar and nightclub.
The vibes of the venue both upstairs and down are that of an energetic and dynamic place very much driven by its music loving customers and staff. Everything about this unique feel to Nice N Sleazy is embodied in its jukebox, a shiny little thing of wonder situated in the corner of the dimly lit upstairs bar and providing a seemingly endless selection of inspiring CD's ranging from Glasgow greats such as Belle and Sebastian to the more contemporary sounds of artists such as Edinburgh-based Found and popular American group Death Grips.
The music range in Sleazy's, not only provided by this celebrated jukebox but also the extremely busy club night schedule and DJs upstairs every night, is truly something you could only find in a city full of such diverse musical tastes and talents as Glasgow. Situated in the belly of the beast that is Glasgow's nightlife and staying open until 3am every day of the week, the venue has rightfully earned its solid reputation as one of the city's favourite music venues and nothing can exemplify that fact more than the stunning range of music on offer in its famous coin-operated jukebox.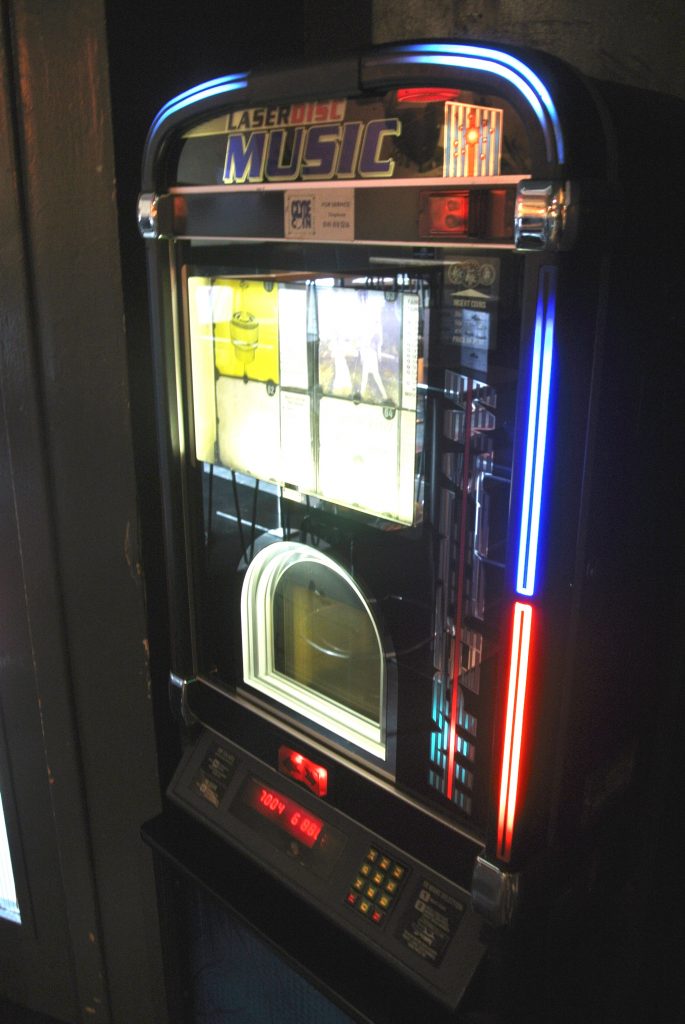 When visiting on a quiet rainy afternoon recently, I was greeted by friendly barman Chris who was happy to chat away to me about the venue and it's jukebox credentials. I was interested to find out what goes into collating such a notably diverse and interesting selection of music. Chris explained that the music for Nice N Sleazy is chosen by the managers who regularly visit the Mono Record Shop (another feature of our Glasgow Music Tour and a future chapter of our Jukebox Journeys series) to pick out the most popular and contemporary music to suit the venue.
Visiting the venue throughout the day, it takes on a quieter more food-orientated feel and there is notably less competition for the jukebox at this time too, giving customers a proper chance to browse its beloved selection of sounds. It has to be said though, until you have stepped off of a hectic Sauchiehall Street through the doors on a busy night in Sleazy's, had to barge your way to the bustling bar, and really sampled the buzzing atmosphere and blaring music over loud chatter, no words can do justice to the brilliant energy of this place.
In the next addition of the Jukebox Journeys series, Gemma Brown explores the legendary Mono Cafe Bar in Glasgow's Merchant City.
To hear more about Nice N Sleazy and the bands who play there, download Glasgow Music Tour Route 4.