A proper Glasgow debut was a self-set milestone of the Russian Ninjas. After only 18 months in the city, the four-piece band from the Highlands wanted to headline their own show. But where? Frontsman Jamie Coltart describes how they came to play Nice 'N' Sleazy…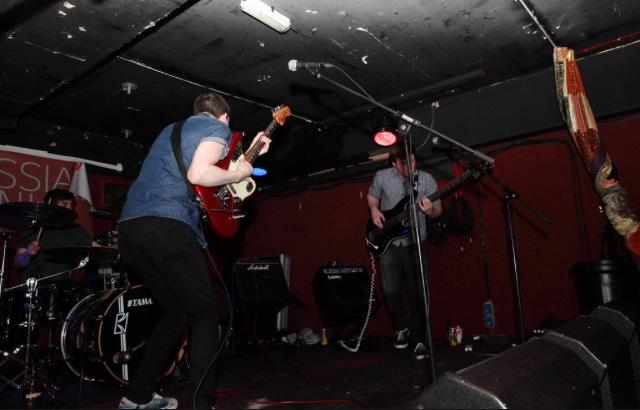 Coming from a town that had only a gig or two a month, it took us a lot of time to find our feet in Glasgow's insanely vast music scene. At the start of our new musical life in our new foreign hometown, we found ourselves playing some of the most obscure nights that we can think of!
Slowly, bit by bit, we managed to work our name into the scene . Probably one of our biggest confidence boosters came when we got a support slot back in October at The Garage, supporting Fatherson playing their biggest headline show to date. After selling a good number of tickets we realised it was about time to look into booking a headline show of our own. Following a small string of Scottish dates we decided to go for it.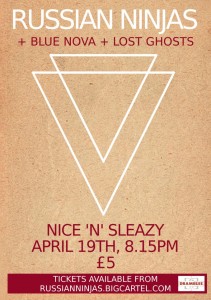 From playing a handful of Glasgow venues and visiting them to see other bands, we had a rough idea of which venues suited us. And which didn't. Although none of us had ever actually been to Nice 'N' Sleazy for a gig, somehow it stood out and seemed like the best fit for us. So in early February we booked it but it was another month before I had my first encounter with the venue, when I went to see a college mate's band. As soon as I went in – seeing its grungy interior and hearing a wall of sound from the band's opening song – I knew we had booked the right place.
Our night arrived on 19th April. After load in, sound checks and all other stress free activities were done, I noticed how close it was to doors opening and an eruption of nerves kicked in with questions to boot. Was anyone going to show up? Had we built this up too much to ourselves?
All of which disappeared about half an hour after doors opened and a fair amount of people flurried in to see the opening band. Blue Nova, an act similar to ourselves with a grungy, guitar-driven, shouty approach, had an amazing set and gave the perfect taster for the rest of the night. Lost Ghosts – a more anthemic, melodic, ambient sounding band – followed giving an equally amazing set only with a more studio sounding well-rehearsed performance. We already knew, by the way, how great both these bands were from previous gigs and had been desperate to have them on board again for this one!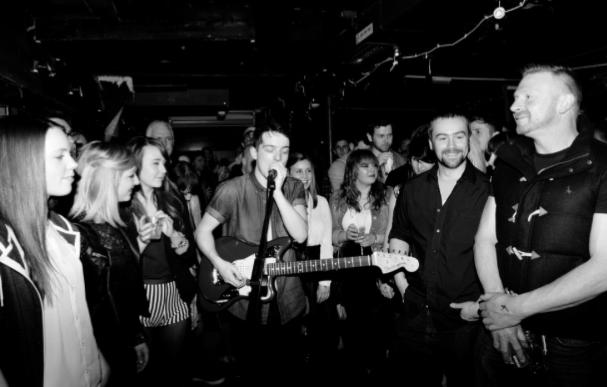 Then it was time for us to take to the stage and at this point the venue was sold out which got us completely hyped up ready to play. Going onto the stage we could clearly see this was going to be one of the biggest gigs we had ever played. We already knew this was a milestone for us but actually playing the set and having the crowd's complete attention on us was incredible! We played a high-energy set we were all ecstatic with and on leaving the stage could not have been happier (and judging by the response neither could the crowd!)
When the show was over, after loading out, thanking everybody involved and getting a few drinks of Drambuie (who kindly provided us with some free alcohol for the night) it was time for a cheap but cheerful celebratory end to the night. So it was over the road to The Garage which involved copious amounts of alcohol, karaoke and lots of horrendous dancing.