"The forecast is for rain, I will bring my brolly.  See you tomorrow at 11am at the Fringe shop!"  That's Matthew Wheatley emailing to confirm he is up for road-testing Edinburgh Comedy Tour. And for a very special reason.
During the Fringe we were asked if Edinburgh Comedy Tour is accessible to people with disabilities. Is it open to wheelchair users? Could someone who is blind do it?  The answer to that last question has to be yes, simply because the tour is written and presented by Jamie MacDonald whose white stick is not a comic prop.
But Edinburgh presents plenty of challenges to anyone on foot and many more if you are in a wheelchair. Matt, who has MS and walks with the aid of a stick, kindly agreed to try the tour for us.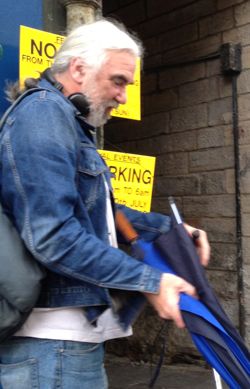 At 11 am he's there with brolly, ready to begin a winding and sometimes hilly trail: Edinburgh Comedy Tour leads round the great venues of the Fringe, from the Royal Mile to the Stand Comedy Club in York Place with some steep climbs in between.
A community activist with a keen interest in history, Matt is involved in Edinburgh People's Festival as well as Disability History Scotland.  He knows the city well – he remembers when the Grassmarket was a very different place – so Edinburgh Comedy Tour is being tested on several fronts.
When we meet up in the Grassmarket, we're pleased to hear that he's enjoying it: "It's wonderful," he says without hesitation. The comedy makes him laugh, he finds the directions easy to follow and he also likes the fact that you can stop and start the audio whenever you want which is useful when you want a rest.
But how accessible is the tour? In the true spirit of the Fringe, Matt's verdict is delivered against the competition of a loud brass band striking up nearby.
"The tour was not specially planned to be accessible and of course a city like Edinburgh,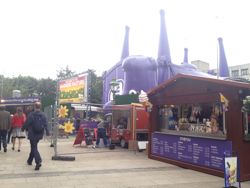 which is hilly to say the least, is not as accessible as it could be. There are issues for people in wheelchairs, like hills and high pavements. But other parts, like Bristo Square and George Square, are more accessible. My advice to anyone who is disabled would be to break the tour into chunks, plan it carefully, avoid busy areas at peak periods and don't try to do it in a oner."

He has a suggestion for us too: "You could mention that Greyfriar's Kirkyard is the place where William McGonagall is buried. He's a controversial poet, that's poet in inverted commas, and he could be seen as a character of comedy so it would be worth including him, especially as the tour goes into Greyfriar's Kirkyard."

Our thanks to Matt for road-testing Edinburgh Comedy Tour with such good humour. We hear he has a new walking date in his diary. On 20 October he will be taking part in the Right to Work march in Glasgow.

Look out for Disability History Scotland, a daring, innovative and creative new festival which will be launched at the Scottish Parliament at the end of November.  Oh, and download Edinburgh Comedy Tour any time of the year.