In this week's music post, gig promoter Gemma Brown visits a live music venue which acts as a birthing place to Glasgow's new artists.
The 13th Note is no stranger to us at Walking Heads; the venue featured in BBC's Ally McCrae's guest post on his favourite live music haunts in Glasgow – and of course it is one of Jim Gellatly's stopping points on Route 1 of Glasgow Music Tour.
Recognised as one of Scotland's best gig venues, 13th Note sits in the Trongate on the corner opposite the African-Caribbean Centre. While the café/bar offers a vegetarian and vegan menu, the basement plays host to an eclectic mix of music scenes and genres from techno to punk, to hip hop to rock, nearly every night of the week. Did I mention their jukebox has its own legendary status? Well it does but don't just take my word for it, check it out.
The intimate gig space of the Note allows a rare ambiance and offers a unique experience, hard to find elsewhere in Glasgow. For those with an alternative heart, this is the area of Glasgow you want to be.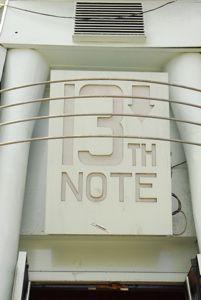 There are no limitations restricting who performs in the atmospheric basement. You will find both established to upcoming artists showcase their talents in a very diverse range of musical styles.
Family friendly through the day, the venue is transformed into a hub of live music at night. The 13th Note is also used as an exhibition space  for different forms of art.
The grungy surroundings of the 13th Note provide the young and hip demographics of Glasgow with the perfect place to chill and hear some new music and discover new experiences. Take a look at the listings and you will see why.  In May, for example, bands from US (like New York's Bridge and Tunnel) UK (London's The Jacobs), Oz (Brisbane's Ironside)  and, of course, Glasgow (TheDeeTees) converge in The Note – though not all on the same night!
Footnote: The 13th Note is one of seven fantastic live music venues on Centre East – Route 1 of Glasgow Music Tour, downloadable for just 59p, or £1.99 for all four routes.
See The List magazine for more about eating & drinking at The 13th Note