So you think you know Edinburgh? Come, follow us away from the tourist centre to find an unexpected side of the city. It's an alternative view which gives new and more interesting meaning to that 'inspiring capital' slogan. 
We're on our way to see Jock Tamson's Bairns, an extraordinary photographic exhibition  at Out of the Blue Drill Hall, just off Leith Walk. A community arts café in the most multicultural part of Edinburgh is a fitting location for a collection of stories and pictures celebrating Scotland's migrant cultures. First seen in Previously, Scotland's History Festival in November 2012 it opened in the Axolotl Gallery in the heart of the New Town where it perhaps presented a more startling reflection of hidden diversity.
Here is "a snapshot of a dynamic multi-cultural Scotland" as the exhibition literature puts it: "Italian, French, Polish, Ghanaian, Chinese, Pakistani, Russian, German and English accounts. Their journeys have not been without encounters of racism and prejudice. We could have added Irish, Scandinavian, other African and Caribbean, Indian, Flemish, Lithuanians, Gypsies/Travellers and a rainbow of Refugees and Asylum Seekers."
Pictures invite you to look but it's the words that stick in your mind; each story a different tale of love, loss, courage and determination to survive. David, a Jewish refugee from Nazi Germany, a translator at the Nuremberg trials who 'looked Hess in the eyes', first came to Britain with the Kinder Transport and eventually made a new life in Edinburgh running a cleaning and valet service next to the Empire Theatre. (Sadly he died before the exhibition went on show).
"Martial law is frightening to a child. The adults are scared, you can hear it in their voices." Kasia Raszewska
Kasia was one of thousands of talented young Polish people who came to Britain after 2004. Busy making a new life in Scotland,  Kasia also helps to bring different migrant groups together through a Polish voluntary support group Swietlica in Leith. She remembers dark days of martial law and light going on when the Berlin Wall fell. 'Poland went a little mad with excitement'.
The exhibition is a reminder that human migration is a complex issue with many causes and constantly evolving outcomes. Individual stories are all the more moving because they are told with unsentimental simplicity.
Previously,Scotland's History Festival was the inspiration of Susan Morrison, a Leith based comedian with a passion for history  (as indeed we know from our Edinburgh Comedy Tour where Susan comes up with some cracking good stories). Jock Tamson's Bairns was the idea of another Leither, festival director Ian Harrower and also producer of the  Big Tent Festival.   Clara Massie, the curator, is a photojournalist (working for publications like Heat and Sunday Mirror magazines) and a third generation child of Russian and Italian migrants.
Together Susan and Clara interviewed volunteers prepared to tell often deeply moving stories, Susan documenting their words to be displayed with portraits by photographers Albie Clark and Jenny Wicks – and all of them freely giving time and talents.
Now Clara wants to grow the collection which is why it is on show in Out of the Blue during a week of fundraising activities supported by World Kitchen in Leith, (another rich fusion of cultural influences) making food inspired by Jock Tamson's Bairns. The aim is to develop an educational resource for schools and community groups across Scotland.
Jock Tamson's Bairns is on view 10 am to 5pm until Monday 9 April (Out of the Blue is closed on Sundays). It's free but look for the donations box. As the invitation to contribute says: "We're all Jock Tamson's Bairns".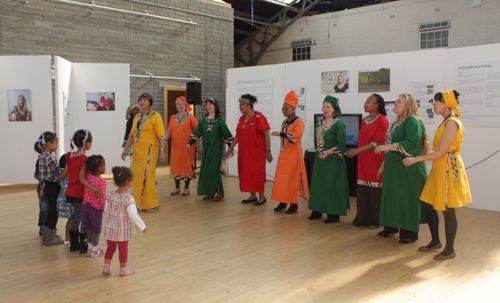 Zawadi Alba women's choir singing at the launch of Jock Tamson's Bairns in Out of the Blue Drill Hall on Sunday 1 April (photograph by Clara Massie).