After initial despair a new sense of hope is emerging as musicians and artists unite in what's likely to be the first of many fundraisers in aid of students' affected by the Glasgow School of Art fire, and the building itself.
Take a look at the poster.  It's interesting to read that David Shrigley had felt unable to go on BBC News when he was invited to make comments the day Glasgow School of Art went on fire. "I couldn't do it" he later told the Guardian,  "because I was really upset. I didn't feel like I wanted to be on TV. People were weeping in the streets outside, but once the fire was out everyone took stock a little bit."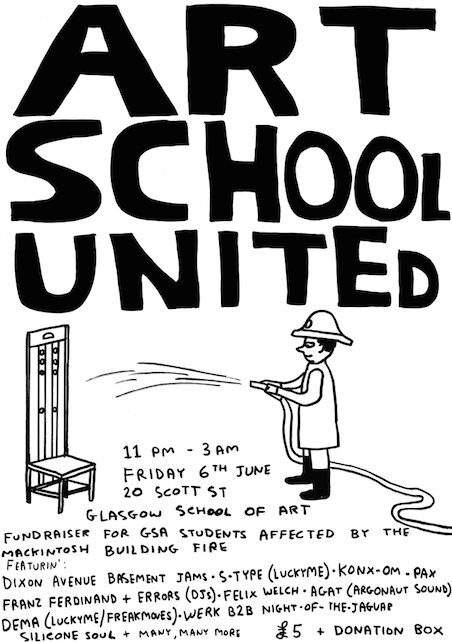 Taking stock means switching from shock and sadness to a sense of purpose. After first fears of total devastation, there was dawning relief that damage was not as great as it could have been.  No lives were lost and although there was tragic destruction of students' work along with parts of the Mackintosh, the fire service did a heroic job in saving much more than anyone had dared hope during the blaze.
Now a different rescue job begins and artists like David Shrigley are playing their part.
No prize for guessing who produced the poster  for the fundraising gig at the newly reopened Art School on Friday 6 June – a gig with whole-hearted supported from an impressive list featuring such as Lucky Me's S Type, Dema and Konx-Om-Pax plus Franz Ferdinand's and Errors' DJs…and many more as the poster says.
That's hardly surprising, the line-up includes several past and present Glasgow School of Art students (David Shrigley and Franz Ferdinand's Alex Kapranos was among many former GSA graduates watching and contributing to unfolding news on Twitter). As Jim Gellatly said in our original Glasgow Music Tour tribute to the musical talent connected with the building: "GSA is known as much for music as art…in fact the Alumni reads a bit like a roll call of indie rock."
The last of the Scottish Fire and Rescue appliances drove down Renfrew Street accompanied by a piper and loud cheers from the GSA staff and students. gsapress.blogspot.co.uk
The fire hasn't destroyed that of course but we're now standing by to update this part of our Glasgow Music Tour, hoping we soon have more good news to add. The Art School, designed by Charles Rennie Mackintosh, is one of the essential stops on the tour and it is wonderful to see that, while a massive international effort begins to restore the Mac, both music and art go on.
With firemen managing to save some of the students' work, this year's degree show will go ahead after all from 14-21 June.  There have been heartbreaking losses though and, as Alex Misick Vice President of GSA Students' Association, explains on the Art School blog,  all funds raised from Friday's gig will go direct to students affected by the fire.
How to help?
Go to the Art School United gig, add a donation, contribute to the Mackintosh Building Fire Fund:
PS: While expert stonemasons from Historic Scotland have begun to remove part of the Western Gable of the Mackintosh Building for conservation work, the Scottish Fire and Rescue is to be given a special architectural award for "extraordinary efforts in saving one of the world's most admired buildings."