On a bleak day at the start of the week, a cheering email arrives from People Make Glasgow. Our music tour is included in the December issue of their newsletter, Edit, spreading news of the best events and venues in Glasgow to travel writers and journalists across the UK. And plenty for local people too.
 Hope you'll pardon a screenshot from Glasgow Music Bucket List – it is great to be included as one of the Top Ten things to do in the City of Music. The list is likely to keep growing but right now it includes the best of the city's record shops, a backstage pass to some of the best venues, trips to the newest venues (SSE Hydro and Hard Rock Cafe) and entry to the best music bars.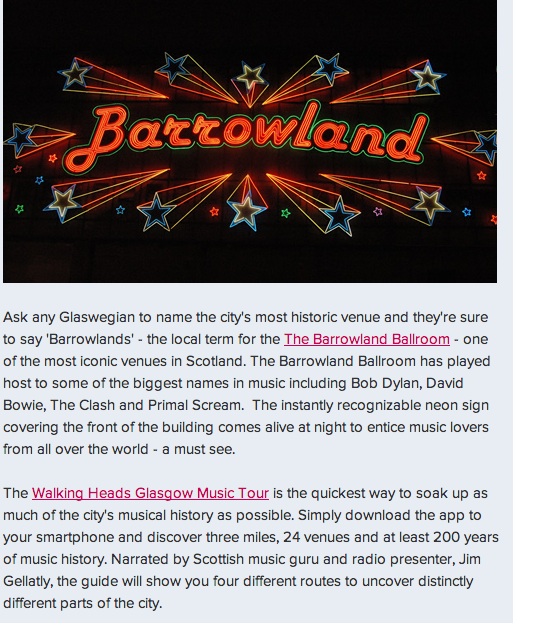 Have a look – Glasgow Music Bucket List –  this is warming stuff on a midwinter day. Much of it is included in our Glasgow Music Tour though we have still to add big, bold and bright newcomers like the Hydro and Hard Rock Café (noting the memorabilia in the newly converted Old Athenaeum includes the burgundy velvet school boy outfit worn by Angus Young of AC/DC). What else what you add?
It's not just music. The newsletter also compiles a fairly formidable list of festivities – Christmas markets, pantos, icerink and Santas abound – and it is good to see some new ideas to lure you off the beaten track. Pop up shops are popping up across the city and People Make Glasgow picks out the Dumbarton Cushion and Cake show as one of the best.
Look also for Mrs Claus returning to Pollok House on Christmas Eve and join the Festive Fun at our very own dear Finnieston on Thursday 5th December. There's a pop-up shop here too featuring designs by all the talented folk in the Hidden Lane, for sale at the Hidden Lane Tearoom, right outside our door.