Is biggest always best?  Glasgow's latest live arena is rapidly making its mark on the city skyline. The Hydro will be the biggest venue in the city and one of the biggest in the UK. But with a mere 12,000 capacity it is small fry compared with London's O2 Arena which holds almost twice as many.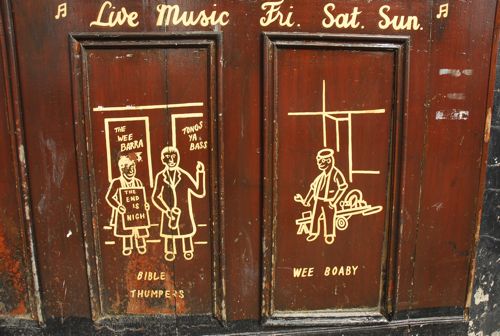 The numbers are crunched by STV local Glasgow in an interesting graph which places Glasgow's Hydro roughly half way between London's O2 Arena (capacity 23,000) and Glasgow's King Tut's (400) – nicely making the point that when it comes to international reputation size does not necessarily matter.  That, of course, was something we soon discovered when we were digging through the histories of city music venues for Glasgow Music Tour. (See Michael MacLeod's infograph at the end of this story).
By today's standards the long-gone Apollo was not big – the giant of the 1970s and 80s grew out of Greens Playhouse which boasted a seating capacity of 4,800. But as our guest blogger Kenny Forbes pointed out a few weeks ago, in a pre-arena age that was big enough to house bands like The Stones at the peak of their pulling power.
With other new iconic venues on the horizon – Leeds Arena holding 13,500 opens in 2013 – it is also worth reading Kenny's blog on the Live Music Exchange about the changing nature of the live gig as he compares the 'perfect live music experience' in today's streamlined 'sanitised' arenas with the roar and sweat of the old concert halls.
One commentator interviewed recently highlighted that the Apollo had 'nothing, but everything', as in 'nothing' in the way of facilities, but 'everything' in the way of atmosphere and authentic ambience.
For others there is nothing to match the undying magic of the Barrowland (capacity 2,100). And we could go on, right through a long list of venues (old, new, here and gone) on Glasgow Music Tour.  So – while we look forward to the Hydro opening next year – lets continue to celebrate the unbeatable mix of live music venues in Glasgow, big and small. Long live Glasgow's live music.
Kenny Forbes is keen to hear from anyone with memories of the Apollo for his research into the lasting appeal of the old venue. Email: k.forbes.1@research.gla.ac.uk
And by the way, we're really enjoying the guest blogs on favourite gigs, bands and venues. Please be our guest and keep the stories coming! You can hear our guide Jim Gellatly talking to bands and DJs on Glasgow Music Tour.
Here's that clever Infographic created by STV's Michael MacLeod