We're on the trail of a bold new street art project in Leith – a graffiti grand design – far from city centre art galleries. It's tucked away down a side street so you have to seek it out which adds to the adventure.
Down Leith Walk, you go. Turn right at Manderston Street. Past the Mecca bingo hall and mechanics workshops, then right again at the corner where Gordon Street meets Halmyre Street. And stop.
There's not much to see yet. The abrupt end of the old railway bridge is not so much a blank canvas as an invitation for urban doodling; spray can tags mark the place where once a giant mural showed a train bursting out of the tunnel. If you look carefully you can see a black cat in the top right hand corner and that's pretty much all that's left of the work created by street artist David Wilkinson some 25 years ago. The story goes that when the work began to crumble, the artist whitewashed over it.
"Locals loved the mural," says Fraser Gray one of the group of artists who are about to change the landscape in this part of town by creating a massive new modern mural celebrating life in Leith with enthusiastic support from local residents and businesses. Plus funding, the biggest chunk from the city council, and gifts of essential paint and scaffolding from local companies.
It was an anonymous local who, saddened by the state of the wall, suggested some kind of public art project a year ago. And that's exactly what's happening now under the dedicated co-ordination of LeithLate's Morvern Cunningham. It's an ambitiously optimistic and heartwarming project which brings streets artists working under the collective name Blameless together with community police and council officials, local history associations and residents groups, researching the past and present story of a place with a very definite sense of identity.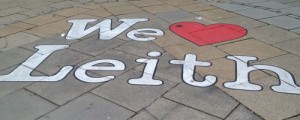 "This is Leith not Edinburgh, that's something that came across instantly from our first community meeting," says Fraser,
And public art is becoming a proud part of Leith's identity. The Mural Project follows on pretty seamlessly from LeithLate's Shutter Art project which has brought life and colour to shop fronts along Leith Walk during the last year and in fact quite a few of the same artists are involved on the mural.
But there's an older landmark not many streets away. The story of Leith is told on a great gable end mural in North Junction Street, created by Tim Chalk, Paul Grime and David Wilkinson in 1986.  The 2013 collective are in contact with Tim Chalk ("I'm not sure he knows it but he's a local celebrity in Leith") and although the new mural will be entirely different – "A modern mural for modern Leith with a strong nautical theme" –  the now fading colours of the much-loved old mural have helped to provide a palette of blue, turquoise, beige and brown for the new landmark.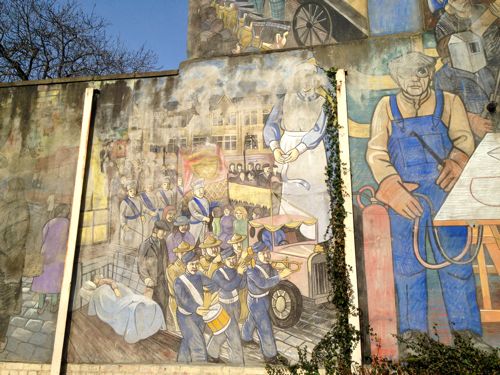 A detail from the massive and much loved old mural in North Junction StreetWalking Heads caught up with Fraser during his lunch break from another larger-than-life project. Inside the King's Theatre he's working at the top of scaffolding on the massive 52 metre square painting designed by John Byrne for the domed ceiling of the old theatre.  Which means using fancy computer software to stretch a flat image to fit the curved surface and the perspective of viewers far below.
Compared with this the Leith mural will be more straightforward though at 8.5 metres high by 9.5 metres wide the scale is not much less demanding.  Perhaps the most challenging part is agreeing what the design will be.  "It will be read as one image but as much as possible we want everyone to feel they have got the role they want. We're still playing with it." But the highly talented collective  –  in this case: Fraser Gray, Richie Cumming, Rabiya Choudhry, Martin McGuinness, and the DUFI duo (Fin Macrae and Alister MacInnes) – is used to working collaboratively on an extraordinarily large scale. See Rough Cut Nation which filled the National Portrait Gallery, Impossible Nation, inside a travelling bus, John O Groats Hotel which could be seen from Orkney and Freedom Versions in Stirling Old Town Jail.
They start work in Halmyre Street on 19th July and finish ten days later working all the hours of daylight in between. A modern mural for modern Leith. Be sure to seek it out.
Funding: a total of £7,500 for creating the new mural comes from City of Edinburgh Council, Leith Neighbourhood Partnership, Port of Leith Housing Association and Scotmid. Scaffolding and paint contributed by Keyline and Johnson's Paints.