"Glasgow has really transformed over the last 30 years, it's a different city now from the city it used to be back in the 70s and 80s and a large part of that change has been down to the music, the culture and the art that the city is now associated with," says Stewart Henderson, a man of many titles including SMIA chairman, former bassist of The Delgados, Chemikal Underground director and, now, one of the head organisers of East End Social, an arts and music events project run by the label in conjunction with Culture 2014. "We are an incredibly sophisticated city, culturally."
With East End Social's  Last Big Weekend  (don't let the name fool you!) approaching, lets take a closer look at the new confident culture emerging in the East End.
As well as probing Glasgow's social and industrial past, our Clydeside Promenade audio tour also takes a fresher and more modern perspective, exploring the city's current cultural goings on. After all, it wasn't named UNESCO City of Music in 2008 for no reason.
But while most of the city enjoys a full calendar of entertainment and events each year, the East End often leaves a lot to be desired. That's where the East End Social comes in – one project which demands 'People! Look to the East' and aims to bring a stronger musical component to what takes place in the area. From a pop-up festival on Duke Street and intimate showcases at Bowlers Bar, to an El Hombre Tajeado reunion at Platform and bringing the likes of Mungo's HiFi to the annual Alexandra Park Gala, Henderson and his Chemikal Underground team have wasted no time. And there's much more to come, including The Glasgow Mixtape – a free event at Glasgow Green this Saturday (2nd August), with performances from Scottish cult music stars of the 80s, 90s and 00s.

It's little wonder they've got stuck in, considering they have been based in Bridgeton for almost 20 years, just waiting for such an opportunity to arise. Now, thanks to funding provided by the Commonwealth Games for Festival 2014, they can finally bring it to life. "I've noticed, in the last 10 years or so, there's been a move towards more investment into areas like Bridgeton and Calton – long overdue, I should say," says Henderson, "It's clear that, with the Games arriving, the East End Social is only possible because of the money and investment that's been made available."
However, unlike the Games, Henderson is hoping for much more than a temporary project. He believes East End Social could be the start of something big, for both Chemikal Underground and the wider community. "A lot of these things come and go very quickly, they don't really leave much of a lasting impression," he says. "One thing we've always said from the start is, if we make a mess of the East End Social, which isn't entirely outwith the realms of possibility, the key thing is that we're not going anywhere.
"Chemikal Underground do have a vested interest and we feel that we are accountable to the people that live locally, so it's important for us to make sure that what we do has relevance for as many people as possible". Henderson is fully aware that what the label would like and what is possible can sometimes be two very different things, but with Chemikal Underground partly dependent on the future of the project, they're a little more than determined to make a proper go of it.
"It's a challenging one for us because record sales are struggling so much. So it's important for us to try and come up with ways that we can continue to operate and function as an organisation, outwith just selling albums," he pauses, "I see the East End Social as being a fundamental part of that, moving forward."
As he speaks, it's clear Henderson has a genuine and sincere passion for the East End and its lively community spirit. "Just like a lot of cities all over the world, the community in the East End has been rooted in the industrial past." The result, he's discovering through East End Social events, is an incredibly strong sense of community.  The people of the East End, he asserts: "have a right to have these events out here in this part of the city," and he's confident that the support they've received for the project so far is testament to an appetite for more.
As Saturday's free event at Glasgow Green approaches – the likes of Admiral Fallow, Edwyn Collins, bis, Errors and The Bluebells are performing – Henderson and co have created a special Glasgow Mixtape playlist on Spotify to get you in the mood.
Then it'll be almost time for 'the big curtain closer'.  East End Social go out with a bang with The Last Big Weekend – a two day knees-up at Richmond Park on Saturday 30th August and Sunday 31st August, with Mogwai, Hudson Mohawke, Jeff Mills, LCD Soundsystem's James Murphy, The Wedding Present, The Twilight Sad, Young Fathers and many more.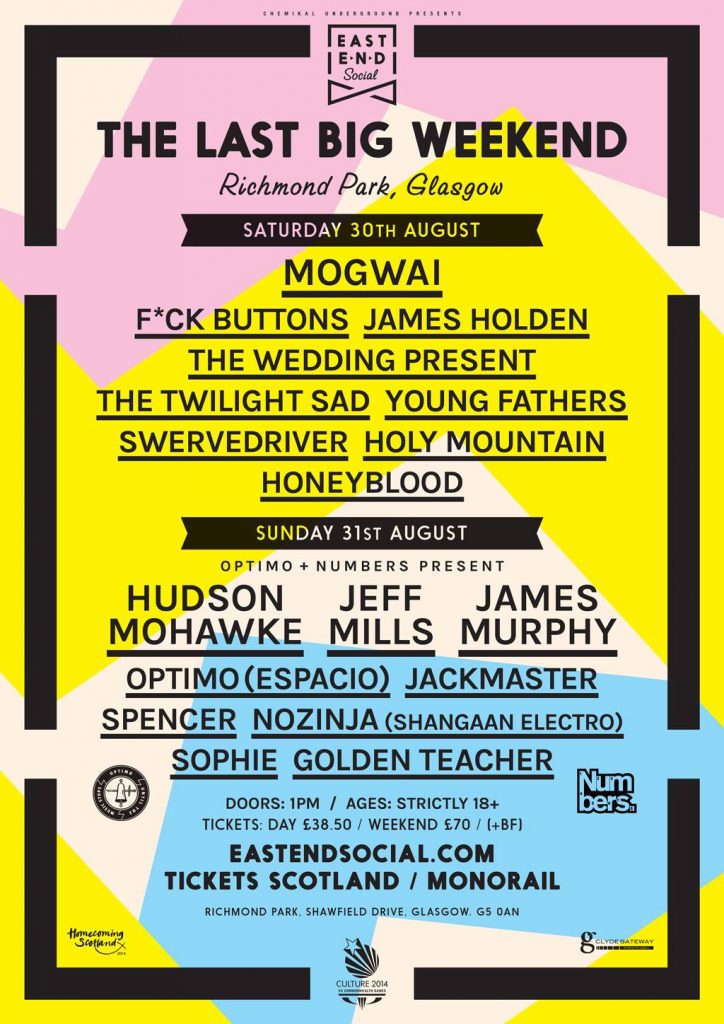 But don't let the name fool you. "Right from the beginning, we felt that the concept of the East End Social was strong enough that it would deserve to continue after this year and next year and so on," says Henderson. "It's something that we would like to grow and develop and I think it's a different conversation, for another walking tour…"
We're up for that! For now, however, there's Clydeside Promenade, our brand new audio tour for Festival 2014, now available in its entirety – from Govan to Bridgeton in four easily digestible routes. Get it HERE.
Let us know how you are getting on. Send us your photos and updates on Twitter and Facebook.
For more information about Chemikal Underground and their releases, click HERE.
For more information about the East End Social, including upcoming events, click HERE.