When Jamie met Harry: Edinburgh Comedy Tour
Rediscover the original Fringe spirit. Download this FREE edition of Edinburgh Comedy Tour and walk with our comedian guides, blind 'professor' Jamie MacDonald and his accident-prone helper Harry Gooch.  They lead from the mayhem of the Royal Mile to The Stand Comedy Club in York Place…..
There's vintage stuff in this pioneering comedy adventure.  Some venues have changed, stars have waxed and waned. But Jamie and Harry captured the anarchic energy of Edinburgh's Fringe comedy when we launched our first audio tour on an unsuspecting city.
And their story lives on. Part walking tour. Part Fringe show. Completely unpredictable.
Comedian Jamie MacDonald is genuinely and irreverently blind so he hired another comedian Harry Gooch to help him round the route. Harry means well but he's kind of accident-prone.
It's a journey full of mishaps and madness – chased by drag queens from the Spieghel Tent, haunted by the Underbelly demon, hung out to dry on Edinburgh's tallest monument  – but don't worry the accidents all happen to them.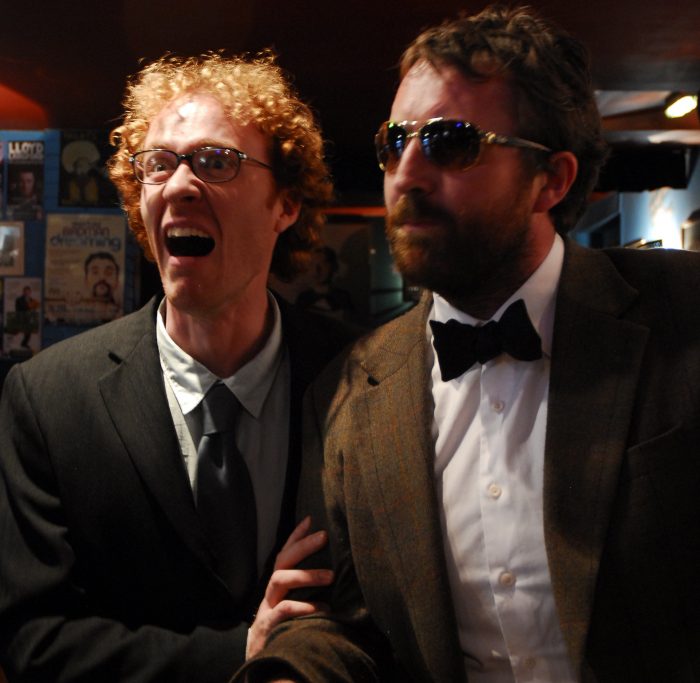 As you move from venue to venue – hearing stories of the famous comics who began their careers dying in front of Fringe crowds in cellars and bars – you'll learn the geography (and some history) of Edinburgh almost by accident. Their accidents.
Download this FREE Edinburgh Comedy Tour now. It's vintage stuff, a pioneering digital adventure, so very appropriately it is also available in audio only on Bandcamp for MP3 players.
Free? Unlike other Free Fringe shows, you don't even have to pay to get out.
'I imagine people killing themselves laughing' Janice Forsyth, BBC Scotland Comedy Cafe.
Get the MP3 version from Bandcamp:
Sleeve Notes Brochure
And, again for reference, here is the brochure we've created to accompany the audio only MP3 version of the tour, which we've hosted on Issuu. It can be downloaded by right clicking on the following links as a web version and also for print.
If you have an iPhone or Android device download the tour through the Guidigo app (available in the App Store and Google Play). Download the Guidigo app for free, register an account, search for Glasgow or Walking Heads and intall the Glasgow's Landmarks tour.