This is a first, for us anyway. Walking Heads have teamed up with the very inventive Paradise & Moriarty Explorers Club to take a zig-zag trail through Glasgow's live music history.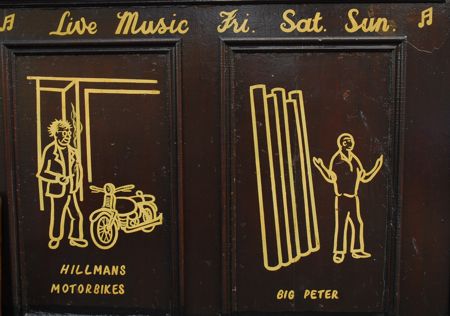 Since Paradise & Moriarty (just back from an amazing tour of Berlin) specialise in 'tales of the unexpected' we're expecting quite a few twists and turns on the two-hour Glasgow Music Tour guided walk starting from Nice N Sleazy at 1pm on Saturday 28 September.  And where will we end up?  Well, please join us to find out.
This is a bit of an experiment for all of us.  Ever since our sell-out Cinema City Treasure Hunt – launched with Glasgow Film Theatre during this year's Glasgow Film Festival – we've been puzzling how to develop a curious hybrid: a mix of live and virtual experience.
How do you combine the beauty of the digitally guided tour – you can do it any time you want and you can take it home to keep – with the social buzz of the one-off live event?
That's where Paradise & Moriarty come in.  By chance we met P&M's Chief Explorer Tommy McCormick not long after our cinema city treasure hunt in January. We were still marvelling at the way people got really stuck into the tasks created by our genius quizmaster Austin Yuill – they were asked to solve riddles  based on stories they heard as they followed the audio walking tour round the sites of old cinemas and film locations.  As you can see from our Flickr album imaginations ran free.
Tommy loved the idea of combining a live event with an audio tour.  And we loved what he told us about Paradise & Moriarty: probing undiscovered parts of the city for hidden stories is very much up Walking Heads street.
So between us we've cooked up another 'virtually live' event. The walk on 28 September is based on our Glasgow Music Tour trail – and tickets include a free download of the app – but Paradise & Moriarty add stories and surprises of their own.
You probably won't be asked to solve riddles but there's room for creative responses at some points and we would love you to record and share your experiences so bring mobile phones and/or cameras.
Tickets, from Eventbrite, costs £12 and that includes a free download of the first route of Glasgow Music Tour (a 90 minute audio tour which leads via Merchant City to Barrowland through many great venues old and new to a fantastic musical soundtrack).  More information on  Facebook pages of both Walking Heads and Paradise & Moriarty Explorers Club.
By the way, Glasgow Music Tour Explorers also qualify for discounts on meals at MacSorleys and The Arches – you just have to show the app on your smart phone or  MP3 player.