Here we go. Glasgow Music Tour is now officially on the road and travelling. Walking Heads celebrated the launch of our audio walking tour in true Glasgow style at King Tut's Wah Wah Hut last night.  But there's much more to come. In fact, as Jim Gellatly put it on BBC Good Morning Scotland: "This tour will never be complete, we will never finish telling the story of Glasgow's music".
You only had to step into King Tut's last night – into that welcoming blast of musical magic and banter –  for living proof that there is no hype about the stories Jim Gellatly tells as he leads the way round the city.
Download the updated Glasgow Music Tour HERE 
Glasgow's live music scene is truly legendary but it's surprising how many of the city's oldest and most famous landmarks have hidden tales to tell. To quote WH project manager Cliff Waddell:
"I've been to the Barrowland probably a hundred times but I'd never really taken the time to find out how it had started out…so the whole thing peels back the layers of the city. It's for tourists but it's also for locals who've never taken the time like me to find out these things".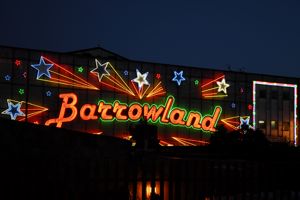 Everyone has memories of favourite gigs in favourite venues. Good music moves most people. And, as DJ Tom Middleton says in a Glasgow Music Tour anecdote from The Arches, "Glasgow Rocks!" Whatever the reason, our launch  was trending on Twitter yesterday (check #GlaMusicTour). Which is pretty impressive considering Monday 30 January turned into a surprisingly big news day with Tommy Sheridan, Ed Miliband – and Yang Guang the male panda at Edinburgh Zoo! –  all competing for media attention. Not to mention that small matter of football transfers.
We'll come back with Sharon McLaughlin of MGComms to tell a few more stories about the PR challenges of handling a press release on those days when distracting news comes out of the blue. Right now we better get on the road with Glasgow Music Tour.
Download Glasgow Music Tour a free and unforgettable audio walking tour.  It's a friendly companion, guided walk, and radio documentary, all in one. With an unbeatable soundtrack.
And don't forget to let us know what you think. We are counting on you to help us fill in the gaps that are bound to be there and lead us off on the trail of more hidden stories.  As Jim says, Glasgow's music scene is always evolving.
Thanks for last night's great sounds from Woodenbox, Jonnie Common, Miaoux Miaoux, Found, with celebratory drinks courtesy of Tenents and Angostura Rum, food from King Tut's kitchen, headphones from Reid and Heath Acoustics (all the better to hear Glasgow Music Tour) and photographs by Brian Sweeney (see more of them on our Facebook page).
This story was first published 31 January, 2012. How much has changed since then?