A moral dilemma as the lights go down for 12 Years A Slave. It doesn't seem quite right does it, sipping wine and tucking into fine food while you watch the violence and torture of a lifetime in slavery being played out on the giant screen in front of you?
That's Tim Dowling describing his night out at the pictures, transfixed  by 12 Years A Slave in the uncomfortably plush surrounds of a posh London cinema that serves food and drink during the film. So the audience sat there,  "swaddled in luxury like millionaire toddlers, all staring up at the screen in hollow-eyed horror."
We know what he means having watched All is Lost in Keswick's lovely old Alhambra Cinema over the New Year holiday. As Robert Redford fought for his life alone on a hostile ocean, we reclined in soft and cosy velvet seats, tucking into little pots of ginger ice-cream.
It's an odd experience for the audience of any challenging drama. At the same time, that's the nature of suspended disbelief. It's a very challenging drama indeed that requires you to feel the same pain as the characters in the story (though it does happen, not least during more avante garde productions of  Edinburgh International Festival).
But there's nothing new about serving food and drink in a cinema.  High Tea at La Scala was the defining feature of one of Glasgow's famous old cinemas, as Scottish cinema historian Gordon Barr recalls on our Cinema City audio walking tour.  During the 1920s and 30s, in a city jam-packed with cinemas, La Scala had found its way to stand out in the crowd: serving high tea on a mezzanine floor while you watched the screen at close quarters. It proved especially popular with genteel ladies, says Gordon.
Perhaps the cinema did not feature anything quite as emotionally and physically demanding as Twelve Years A Slave. However we have found a fantastic first hand account of High Tea at La Scala on the Glasgow Guide Discussion Forum. Paradu Kelly remembers his childhood fascination with the Sauchiehall Street  sign advertising high tea between 2 and 4pm at La Scala, wondering how you could eat and watch a film at the same time.  He found out on his twelfth birthday when his parents took him for a treat to see Quo Vadis and he could hardly watch the screen he was so fascinated by what was happening on the mezzanine:
…the women with gloves on and the men with collar and tie. I could see the waitress wearing their fancy black and white outfits coming and going with trays of cakes and sandwiches. Silver teapots and milk jugs. I could see the little milk jugs glisten in the light of the table lamp and the sugar bowls with small white cubes of sugar. I could hear the clink of spoon on glass as the tea was stirred gently. The sound of the cup being replaced on the saucer was like magic. The clink of glass on glass remained in my memory for years. I was in awe of such grandeur and swore to myself that someday I would return to the La Scala and be a part of the ceremony that was, the serving of high tea and, perhaps even, watch the picture.
Sadly, La Scala closed before he could fulfil his promise.
But we will be visiting the site during Cinema City Treasure Hunt during Glasgow Film Festival when you will get a chance to hear Gordon telling more about the cinema's history (keep your eyes peeled for clues). Check our Cinema City page for details.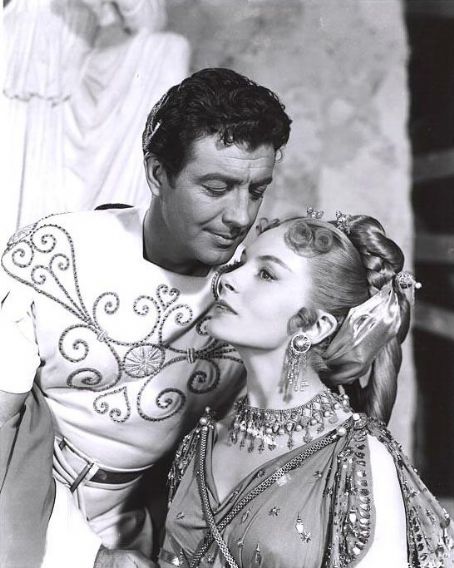 Quo Vadis, by the way, was a 1951 film based on the conflict between Christianity and the corruption of the Roman Empire. But as it was also a  love story (Robert Taylor as Roman military commander falls in love with devout Christian Deborah Kerr) there probably wasn't too much to put the audience off their tea and fancies,