Officially it is named St Vincent Chambers, but everyone knows it as the Hatrack.  Meet the third star of A Brisk Walk architecture audio tour. In a way this tall, slim, elegant Art Nouveau building symbolises the rise and fall of Glasgow architecture in the early 20th century
It's a tale of legacies and legends with a twist of tragedy and a redeeming ray of hope.
Download A Brisk Walk: Buildings at Risk an architecture tour with a difference Free
The Hatrack is the work of James Salmon ll who has left his adventurous mark on the city landscape though his name is no longer well known. On A Brisk Walk: Buildings at Risk tour, our guide Johnny Rodger, Professor of Urban literature at Glasgow School of Art, makes a strong case for Salmon as Glasgow's greatest Art Nouveau architect.
James Salmon (always known as the Wee Troot) entered the family firm founded by his grandfather James Salmon Senior. At that time he was still in training at Glasgow School of Art where he was to develop a lasting interest in sculpture. Along with his friend Charles Rennie Mackintosh, Salmon introduced Art Nouveau, Glasgow Style and early Modernist elements in a series of ground-breaking buildings.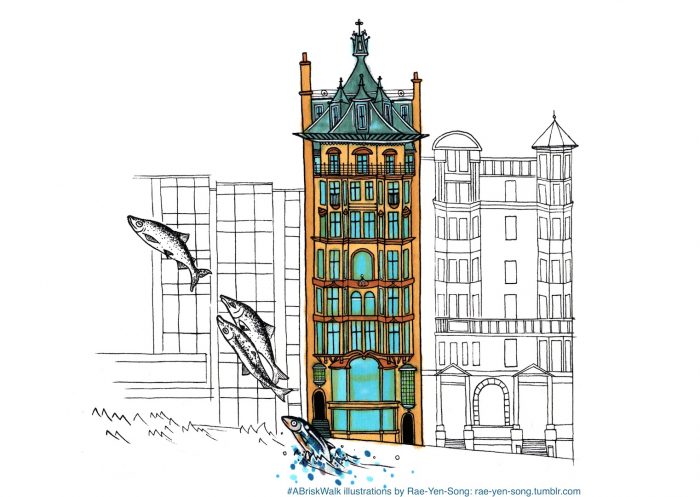 One of the most spectacular is here in St Vincent Street – just round the corner from the Lion Chambers built by his partner John Gaff Gillespie (see Stop 3 on A Brisk Walk and our last blogpost).   Built around 1899, the Hatrack predates the 'concrete castle' of the Lion Chambers by several years. It is very different in style and building materials, but it is another example of a pioneering  'elevator building' and demonstrates a highly imaginative approach to squeezing a lot into a tight space, in this case cramming ten storeys onto a plot less than thirty feet wide.
Elevated hatrack
'Almost Gaudi-esque,' says Johnny Rodger, describing the slender building in front of us, 'Unusual in Victorian Glasgow in form although the red sandstone makes it recognisable as a Glasgow building of the period.'
The light, elegant front is mostly glass surrounded by a bare minimum of decorative sandstone. As Johnny points out there is a striking void-to-solid proportion;  there are no fewer than forty windows, including the stained glass tribute to shipbuilding. And, craning your neck, you can see that 'tour de force' on the rooftop: a peculiar spiky pagoda-like cupola made of lead with finials resembling the pegs of a hat rack – hence the nickname.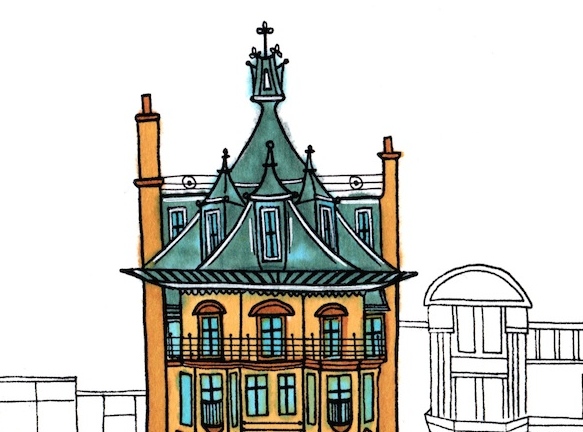 There's a  link with Mackintosh's Glasgow School of Art, too. Both buildings invite visitors to approach up an elegant stairway leading to a single doorway, 'A wonderful relationship between the individual and the collective.'
Sadly there's a tragic ending to Salmon's story. From 1910 a series of personal and financial disasters disrupted his successful partnership with John Gaff Gillespie (who went on to take the senior partnership in the firm). Salmon left the family firm in 1913. He became increasingly impoverished and died of cancer in 1924 aged 50. Gillespie also died of cancer just two years later.
In many ways, says Johnny Rodger, their story mirrors the downturn in the city's prosperity. After World War One Glasgow's architecture never quite recovered the creative force of the first decade of the 20th century.
Battle field legacy
There's a more intriguingly uplifting story around the Hatrack sculptures. These are by Francis Derwent Wood whose work decorated many Salmon Gillespie buildings. You can also find examples in both Glasgow School of Art and Kelvingrove Museum as well as war memorials in Liverpool and London.
But his legacy is also on display in Edinburgh's Surgeon's Hall museum and here it is in thin metal masks made for soldiers with severe facial wounds. During World War One Derwent Wood served at the front as a captain in the Medical Corps. His early development of plastic surgery began with his first hand experience of treating horrifically wounded soldiers on the battlefield of Ypres.
In view of all that, it seems incredible that the Hatrack was at risk of demolition a few years ago. Thankfully that move failed. The present and future of this A-listed building seems secure.  Something to ponder on, perhaps as we take a break in Martha's  occupying the ground floor.
Salmon leap
It's worth taking a detour to see other Art Nouveau buildings by Salmon. Johnny Rodger mentions several examples of his legacy including the Mercantile Chambers round the corner in Bothwell Street and Anderston Savings Bank.
Look also for the British Linen Bank in the Gorbals. It's another derelict building on the Buildings at Risk register but there's hope of new life there too – and isn't there something familiar about the roofline?
For the full story, download A Brisk Walk: Buildings at Risk Free