Half way down Hope Street we find an astonishing monument to Glasgow's architectural audacity.  Let's stop and look up at the Lion Chambers. More than a hundred years ago, they said it couldn't be done. 
The Lion Chambers is the second extraordinary derelict building on A Brisk Walk: Buildings at Risk audio tour. Professor Johnny Rodger describes it as 'proto-modern' and 'a concrete castle'. Eight storeys high with walls tapering to just four inches thick, instead of the usual two feet.
Download A Brisk Walk: Buildings at Risk FREE.
When the Lion Chambers was under construction between 1904 and 1907, local builders and tradesman are said to have stood right where we are standing now, shaking their heads in amazement. 'Well, that's never going to work,' they said.
But it did.  A hundred and ten years later Lion Chambers is still standing… occupied by pigeons and shrouded in protective mesh, as you can see, but there is hope of new life for this extraordinary A listed building.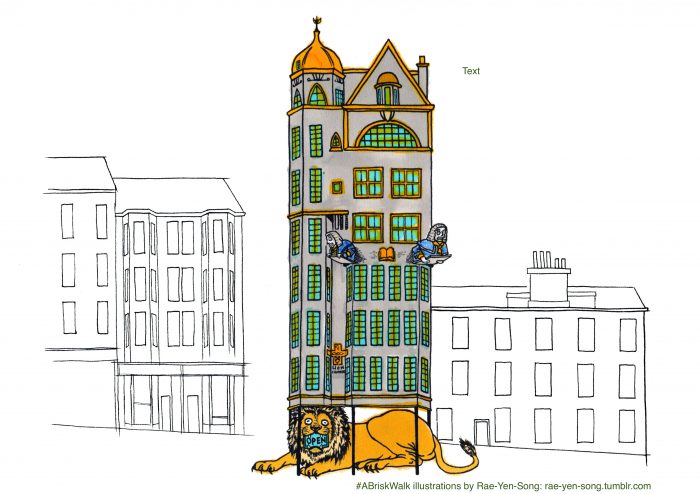 It was a hugely ambitious engineering feat, the first time anyone had thought of building such an elegant construction from reinforced concrete. That had been used many times for industrial purposes but this was a prime location in the city centre. A stunningly modern office block soared above the traditional solid red sandstone tenements.  
This is one of the pioneering achievements of John Gaff Gillespie who was in partnership with James Salmon.  (Later we will hear more about Salmon, a contemporary and friend of Charles Rennie Mackintosh.)
The man who commissioned and owned it was a lawyer and something of an entrepreneur himself.  William Black was also a member of Glasgow Art Club and he wanted to house an interesting mix – from a printing works in the basement up through shops and legal chambers to artist studios at the top.
Deep in pigeon guano
Look up. You can see studio windows taking full advantage of northern light. And those extraordinary sculptures also in reinforced concrete represent Sheriff Guthrie to the left (looking north) and Judge Lord Scott Dickson to the right (looking  south).
Pioneering design brought problems.  Poor insulation and thin concrete resulted in corrosion and decay. After a series of emergency repairs the building was declared unsafe in 1995. Encased in wire mesh since 2001, Lion Chambers looks like a strange urban sculpture – worthy of a Turner Prize maybe. It has lain empty since 2010 and those lofty artist studios are now deep in pigeon guano.  
We had hoped we might see inside this building for ourselves but we were gently persuaded not to. The place reeks of ammonia and  pigeons tend to dive bomb intruders.  Luckily the talented photographer Tom Donald had already ventured in to capture a series of remarkable images from every angle and he has generously allowed us to reproduce some of them on our audio/visual tour of the building. (See also Tom Donald's Lion Chambers album on Flickr)
There is hope
As you can see from Tom's pictures it is a daunting site.  But there is hope.
The sheer challenge of restoration on this scale  – plus complex layers of ownership – deters commercial property development.  The Four Acre Charitable Trust (FACT for short) is exploring options for restoring the building.  That's good news because FACT are responsible for highly regarded conservation projects in other parts of Glasgow. The story of the conversion of Cottiers, from derelict church to thriving west end venue, is testament to their determined and imaginative diligence.
Such determination, along with public funding and philanthropy, are essential to the survival of buildings like these.  But with enough funding, the restoration of Lion Chambers could lift and link this oddly run down middle section of Hope Street with new developments at either end of the street.
There's much more to this story, as Johnny Rodger tells us when we reach another extraordinary building by Gillespie's partner James Salmon building just a little further down the street.  
Download A Brisk Walk now for the full story.