We last heard from Kenny Forbes, the mature student at the University of Glasgow undertaking a thesis on the famous Glasgow Apollo, some months ago. In this follow-up Q&A Kenny gives himself a hard time, asking himself: what's the story, why is it taking so long?  
Q. (Somewhat cross): Where have you been?
A. (Somewhat shame-faced): Apologies, I've been quite busy with all the research and, as a result, have a lot to inform you about.
Q. (Placated, but anxious to press on): Okay, okay. Just tell us what you've been up to. You've been doing some interviews?
A: Quite a few to say the least. As a result of the appeal for contributors through Walking Heads (see Investigating the Lasting Appeal of Glasgow Apollo) a series of Apollo audience Focus Groups were held in Glasgow over the period a month, and these events proved to be very successful.
Q: What sort of things emerged from the Focus Groups?
A: One of the main things the Focus Groups emphasised was the depth of the emotional attachment that many audience members still hold towards the venue, despite it being almost thirty years since the Apollo closed.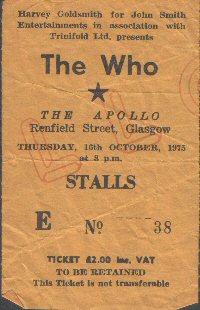 Q: Did you find out why this might be?
A: Numerous reasons, many of the audience members interviewed were in their early teenage years when they first started going to the Apollo.  Some of them were travelling from outside the city, and the train or bus journey helped to add something to the overall occasion, especially  some underage drinking also took place. This, along with the perception that the Apollo's heyday (1973-85) coincided with a key period in popular music, when many major artists were performing at their creative peaks, all serve to underpin this deep emotional attachment. I've included some further insights about the feedback that emerged from the Focus Groups on the research website Glasgow Apollo Research  

Q: What about other interviews?
A:  I've been fortunate enough to speak to many of the original management team at the venue, as well as several of the staff.  From outside the venue I've also spoken to local writers, broadcasters and journalists who have maintained the Apollo's presence online, on air and in writing, which was very rewarding.  Representatives from the live music sector – roadies, stage crew, agents, bookers, promoters and artist managers, have all been keen to speak to me about their Apollo experiences.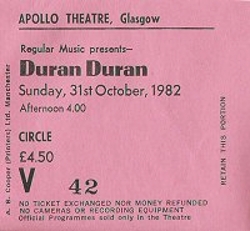 Q: All good, but we probably all want to know which artists you've been able to track down. What do they think about the Apollo?
A:  There might be an expectation that the study would only feature rock artists, but, rather than focus on one music genre, I've tried to reflect the wide range of artists who performed at the venue, and contributors have included Rick Wakeman, Tommy Ramone, Barbara Dickson, Dave Bartram (Showaddywaddy), Steve Hackett, Graham Gouldman, Elkie Brooks, Jake Burns and Ted McKenna, among many others.
Q: And what have some of them said about the venue?
A: Graham Gouldman of 10cc said that, "The Apollo was legendary because of its reputation for letting a band/artist know exactly what it thought. It wasn't a polite place. I have heard of bands being booed offstage, but we always found it a warm and welcoming place."
Steve Hackett, Genesis guitarist and songwriter, highlighted that, "It was a venue that functioned straight at the heart of the Glasgow audience. Sometimes they were so boisterous that the balconies bounced around in such a way that they threatened to come down. There was an incredible dynamic between audience and performers."
Rick Wakeman, Yes keyboard player and songwriter, on being asked what 'made' the Apollo, "It's all down to atmosphere. The place was not in great condition for either the performers or the audience, but that didn't matter. Somehow, it that X Factor that made it pure rock and roll for band and audience alike."
Many of these artists will have performed in hundreds of venues in numerous cities throughout the world over a period of several decades, yet their memories of the Apollo and its audience still remain intact and reflect the impact that these live concerts made.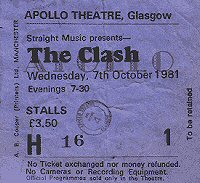 Q: What else have you been doing for this study?
A: Several things, presenting academic papers at Conferences throughout the UK and Europe, writing articles, and talking about my research to local heritage groups.
Q: So, some good excuses for the  delay. . What's next?
A: I'm just entering the final stages of the field research, and have some further interviews and archive research to conduct. Then it's a case of trying to piece together and draw conclusions from the large amount of data that I've accumulated through interviews and reading over the last few years.
Q: Do you still want to hear from anyone who attended the Apollo?
A: Yes, there's still time to make a contribution to the study. I would be delighted to hear from anyone who attended the venue, worked at the Apollo in any capacity, or even performed at the venue.
Q: What's the process and how do they contact you?
A: At this stage the contribution could be made by way of completing a short questionnaire by email. I can be contacted at k.forbes.1@research.gla.ac.uk and further information about the study can be obtained at Glasgow Apollo Research. 

Q: Okay, thanks. Let's not leave it so long next time.
A: Yes, let's do that. I hope to provide regular updates on the research website and, of course, to Walking Heads.