So we reach the final member of the cast of A Brisk Walk. The story of the Clay Pipe Factory makes a happy ending for our tour of buildings at risk. Or, perhaps we should say, a happy new beginning. 
Download A Brisk Walk: Buildings at Risk for an architecture tour with a difference
A Brisk Walk: Buildings at Risk tour, sees our guide Johnny Rodger, Professor of Urban literature at Glasgow School of Art, take us through some of the distinctive features and past lifetimes that make this building stand out from the crowd in a city of many innovative architectural builds.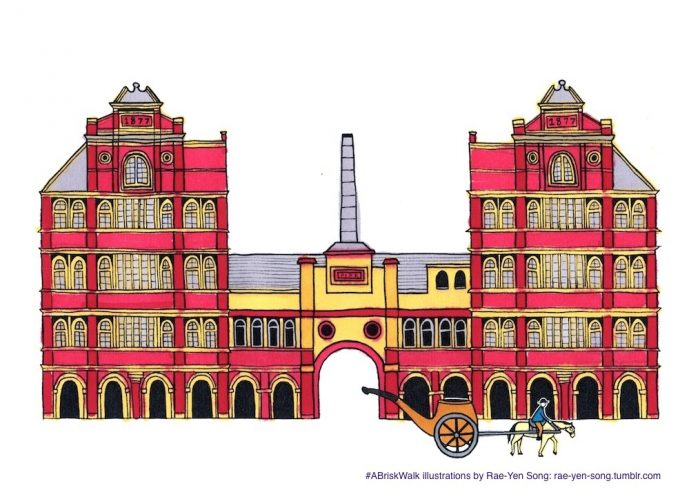 The ornately designed, Renaissance style complex of 3 factory buildings that you can see from the corner of Bain Street and Moncur Street – the one with distinctive, contrasting red and white brick blocks –  was built in 1876-77 as the Clay Pipe Factory.
It stands in all its elaborate wedding cake-like detail as the one significant Glasgow design by Airdrie-born architect Matthew Forsyth. Son of a farmer and eventually a member of the Glasgow Institute of Architects, Forsyth died at the age of 30 just shortly after designing the factory for eccentric business owner and Quaker William White.
An old and equally decorative two storey building originally stood in between these three taller factory structures, linking all three, with long chimneys sprawling from its roof to serve the factory's 6 giant kilns. It featured a massive archway entrance at the front, access for horses and carts bringing in the materials used for production. These same vehicles would transport the clay pipes, freshly produced and packaged on the premises, straight to the nearby Govan docks to be shipped out to the rest of the world.
At its peak of production, the factory had around 900 workers at any one time producing upwards of 16,000 tobacco pipes per day. Each floor housed different stages of production: from pipe moulding to hand packaging in wooden boxes with hay lining.
Was Marlon Brando to blame?
The factory boomed right up until the late 1940s when a young Marlon Brando and similar icons propelled the widespread consumption of the rolled cigarette, and with it the downfall of clay pipe demand worldwide. The factory closed in 1950. A fire around the same time in the connecting chimney-clad building led to its demolition and each of the three 4-storey factory structures separated permanently.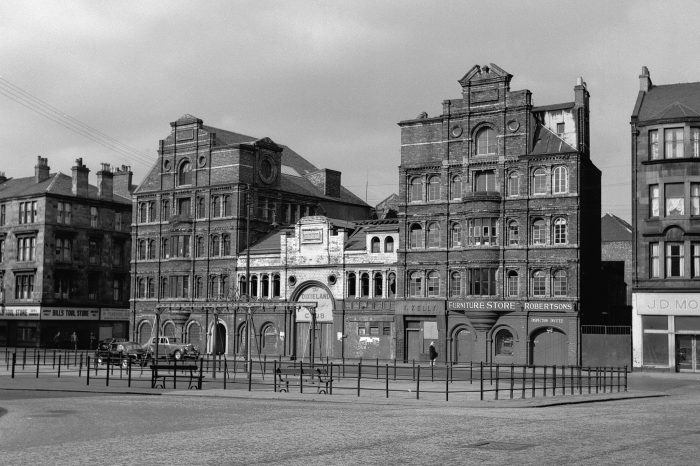 Two of these buildings can now be seen with various small businesses operating in them at street level and flats in the upper floors. Standing on the corner between them, the Clay Pipe Factory, as we now know it, has led an unorthodox life, since the 1970s when it was inherited by the daughter of a neglectful buyer and turned into storage with a rumoured-to-be porn set penthouse apartment on the top floor, a subsequent games and billiards room and most recently until 2011 – a kids toy shop occupying the space.
The odd journey of this unique building has a bright ending, which is really only just beginning now.
A new lease of life
Area funding in recent years has brought the 2015 restoration of Saint Luke's – the once church, now active music venue and restaurant opposite on Bain Street. Close by sits the Barras Art and Design centre and The Telfer Gallery, two further creative spaces breathing new energy into this historic area of Glasgow.
And the B-listed factory building is now reborn with a carefully considered new purpose…
Second hand Scottish slate, bespoke cast iron guttering, complex Italian woodwork and many other fine details have been thoughtfully researched and skillfully implemented in the first stage of the Clay Pipe Factory's redevelopment. The building is now, and will in future function, as a gallery space for exhibitions, film screenings and all sorts of collaborative and creative events. It's open to everyone… so have a look inside and see what you find.
For the full story, download A Brisk Walk: Buildings at Risk Free