Ready for a cup of tea?   Seventy or eighty years ago we might have popped into Peacock's Tearoom, in Glasgow's Trongate.  Will we get there before the Art Deco building disappears?
Depending on when you are taking A Brisk Walk with our guide Professor Johnny Rodger, at this point you might find yourself looking at a new gap site or a block of studio flats.
Download A Brisk Walk: Buildings At Risk architecture walking tour FREE.
In fact Peacock's stopped serving tea many years ago. Due for demolition since 2009, the building has looked a sorry sight for quite some time.
Our illustrator Rae-Yen Song has brought the building to new life.  Old photographs also show a very different era for a rare example of Art Deco style in this part of Glasgow.  On the audio tour app you will see other pictures of Peacock's in its heyday.  Instead of a crumbling façade fringed with self-sown Buddleia (Mother Nature's graffiti), here's a bright and confident building. A three bay Art Deco frontage of glazed terracotta with first floor stained glass and leaded windows, all topped by a proud neon sight blaring Peacock's Tearoom to passers by.
Interesting to note that this building, completed around 1935, was designed by architects Keppie and Henderson. They were successors to the company Honeyman, Keppie and Mackintosh. And of course it was Charles Rennie Mackintosh who had designed the Willow Tearooms in Sauchiehall Street for Miss Cranston some 30 years earlier, in 1903 – those A Listed tearooms are now in need of another round of restoration,but they do still exist.
Johnny Rodger notes interesting echoes between the 1930s and the world we are living in. Then, as now, it was an era of economic turbulence, and social unease.  Tearooms had first become fashionable at the turn of the century but in the 1930s, like cinema, they perhaps offered a welcome escape from harsh reality. 
But there was one important difference. Tearooms were a respectable refuge for women who would not, could not be seen in a bar.  Public houses were for men. Tearooms for genteel ladies.
Art deco 'demolition imminent'
Glasgow had become Britain's second largest city with a population of over one million and overcrowding in almost a third of its housing. At a time of hunger marches and rocketing unemployment, Glaswegians found comfort in 100 cinemas – and places like Peacock's. The Trongate tearoom was part of a successful bakery chain with several outlets.  As official caterers to Ibrox Park their winning slogan was 'Good meals at reasonable prices'.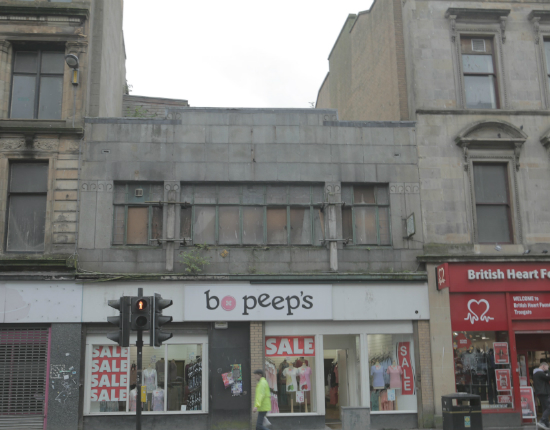 The bakery closed some time ago, leaving little trace behind it. Shops have occupied the ground floor for many years. However on our first walk round the buildings at risk on this tour we met a friendly assistant in the Bo Peep's shop who told us that a tourist from Canada had walked into the shop one day asking about the tearoom – his Grandad used to work in the bakery here.    
Sandwiched between two red sandstone Victorian buildings Peacock's was a potentially stylish symbol of a different era. Although unlisted, its location in the Merchant City Heritage Site might have ensured eligibility for a grant, but decades of damp damaged the fabric of the building, the unused first floor steadily deteriorated and by 2013 the Risk level was moved to, 'critical'. On the Buildings at Risk Register that means 'Demolition imminent. Rescue unlikely'.
Ironically at least some of the adjoining 19th century façade will remain after the Art Deco bakery has been demolished.
Download A Brisk Walk: Buildings At Risk an architecture tour with a difference.