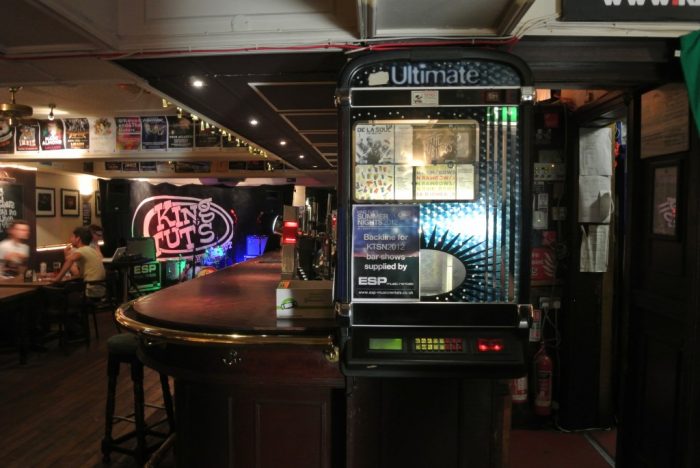 "I wander inside, passing the 'famous jukebox', and am persuaded to enter the bathroom." So writes Alan Tennie, one of the most inquiring reviewers of the Glasgow Music Tour to date. He's clearly not a man to take a short cut. 
Creative curiosity leads Tennie to follow Jim Gellatly on his virtual expedition into the hidden nooks and crannies of Glasgow's extraordinary live music habitat. From George Square in the centre of Glasgow, he takes the marathon trail which ends in the Ben Nevis bar in Finnieston some five miles and 39 stops later.  What's more, at King Tut's he learns something he didn't know before.
Gellatly reads the Hunter S Thompson quote on the urinal before me. 'The music business is a cruel and shallow money trench, a long plastic hallway where thieves and pimps run free, and good men die like dogs. There's also a negative side.'
As a Hunter S Thompson fan, Tennie is tickled to discover that this is an intentional misquote. "Originally intended for the TV industry but taken in 'true gonzo journalism style' and reapplied to the music industry." Checking the walls for upcoming acts at the venue, Tennie muses to himself that the quote still rings true.
And we're tickled pink to read his highly perceptive review of Glasgow Music Tour which was published in The Herald along with maps and highlights of the route.
Quirky insights of the music city
Alan Tennie – singer/songwriter and (sometime busking) musician from deepest Bearsden – is a regular contributor to The Herald, covering a broad range of cultural and topical issues: from Jeremy Corbyn to the lure of the circus, from hot air ballooning to the case for licensed busking.
The music tour just happened to catch his eye. "I had been searching online for off-beat or interesting activities in Scotland, " he tells us later, "With Summer coming up, something outdoors seemed like an obvious choice. Also, as a musician myself I've always had a keen interest in music venues and cultural history, especially when it's concerning places I have played."
As he points out, the Glasgow Music Tour app is free and easy to use.  It represents a 'new freedom for guided tours', something you can take at your own pace and in your own time.  
Strange to think that when Walking Heads launched the first (and much shorter) version of Glasgow Music Tour in 2012, downloadable audio tours were still quite new. Now there's a growing range of 'immersive experiences' published on competing app platforms. All of them offering increasingly sophisticated digital functions for 'DIY' operators and self-guided explorers.  (Walking Heads tours are produced on the platform developed by GuidiGO,  who recently won a gold award for augmented reality technology on a games app for museums.)
The tech is exciting – and constantly developing – but it's the need-to-know curiosity about people and places that always gets us going. So it's great to read Tennie's enthusiasm for the storyline that pulls you from one place to another with tales of the music city.  'Not just a list of famous venues,' he finds, but 'an informative, whimsical and invigorating off-the-beaten-track tour of the city's finest attributes, offering quirky insights unavailable on other guided tours.'
Footnote:  As Alan Tennie also notes, you don't have to do the whole tour all in one day, (the musical marathon keeps growing!). But it's fun when you can.  And, happily, at the end of the journey he took Jim Gellatly's advice and popped into the Ben Nevis  to enjoy a well-earned dram.
Download Glasgow Music Tour HERE. Free app for smartphone and tablet.