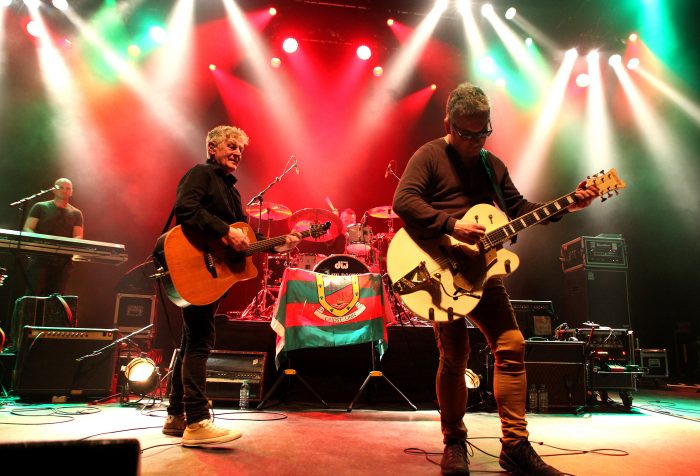 They're back! Glasgow rocked in a rapturous welcome to the Saw Doctors after three years apart. Writer Anna Levin was there at the O2 Academy for 'a kind of homecoming'.
A shared sense of just how good it feels to sing and dance to the music you love.

Stepping out of the 02 Academy into the surprising warmth of Glasgow evening, ears ringing, hoarse from singing full pelt and songs still swirling round my head, there's a hand on my shoulder and a guy beside me smiling intently as if I'm an old friend.
'How do they do it?' he asks confidingly. 'How do they keep on getting better? I keep thinking it can't get any better, then it does!'
I don't know him, but maybe my 1992 tour t-shirt suggests I'm worth asking.
I can only smile back. The Gorbals night is warm and soft and full of smiling faces.
'Weird isn't it?' he says. 'It's normally December, and it's normally the Barras. This feels different… they were brilliant. How do they do it?'
Jumping for joy with the Saw Doctors
I've lived in Scotland since 1991, and for most of those 26 years the Saw Doctors have been an integral part of the shape of my year. An institution you could say, it's just come to feel like part of the cyclical rhythm of life – the way spring brings hawthorn blossom to the roadsides, summer fills Edinburgh with festivals, autumn fills the skies with skeins of geese, so winter brings the Saw Doctors over from the west of Ireland for their almost-annual pre-Christmas tour.
Then, three years ago, the Saw Doctors announced a well-earned break after a quarter of a century of relentless touring. Through those long years there was an incongruous sense of something missing, like a spring without swallows returning. Personally there was a worrying lack of jumping up and down and singing my heart out in a joyous, sweaty crowd during those long Sawdoctor-less years.
Not even visits from band members Leo and Anto could quite fill the Saw-Doctor-shaped emptiness in the year. Nor appease the edge of anxiety – could it be over? Will they no come back again?
Making a noise again
The silence was broken last October in Tobermory's Aros Hall, as frontman Leo announced to a beaming audience that it was 'great to be making a noise again!' And 'good to be alive'. Indeed it was, I've rarely felt more so, than with my favourite band playing in one of my favourite places. There was a tangible atmosphere of shared delight, the lads on stage clearly thrilled to be up there doing this again and the audience – a happy mix of local 'Mulleachs' and fans from around the country – celebrating their good fortune to be there.
The winter tour that was scheduled to follow last year had to be postponed for singer Davy to recover from a minor throat operation, which brings us to a warm evening in Glasgow in June. And here we are again: a packed crowd literally jumping for joy; a tight, polished, band sounding better than ever and rocking through a glorious set list of everyone's favourite songs; a shared sense of just how good it feels to sing and dance to the music you love.
And something more – a homecoming, a restoration of a rhythm. After blasting through Hay Wrap as an exultant finale, Leo announces that he feels 'rejuvenated'. And so do we all.
Anna Levin is a freelance writer.  See more of her music reviews HERE 
Feature image: Saw Doctors live on stage, photo Curtis Morris