First some quick questions: who founded the Barrowland Ballroom, where did Alex Kapranos hold his 99p Nights and which famous Merchant City arts venue marks the spot where City of Glasgow Police began?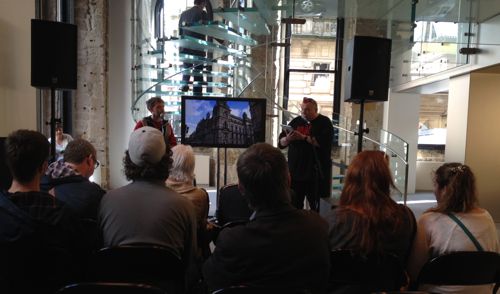 And the quick answers? That requires a sharp eye, a keen ear and a healthy appetite for a good quiz so congratulations to Austin Yuill  the winner of Walking Heads Musical Treasure Hunt and Quiz – the mystery musical trail which began and ended at the Apple store during Merchant City Festival 2012.
"I can never resist a quiz," says Austin, director of Where the Monkey Sleeps, a catering company based at Glasgow School of Art. Austin was one of the first to spot our event on Facebook. He was also first to the finish at the Apple store to check the answers provided by Walking Heads creative director Dougal Perman  and quiz master DJ Jim Gellatly (on the right in the  picture above).
The quiz was based on information in Glasgow Music Tour Route 1. Or the Merchant City Music Tour as we renamed it for the purposes of taking part in this year's Merchant City Festival.
We've had great fun. We're more than a little chuffed to see lovely enthusiastic reviews from people taking the tour ("We loved every moment" said About a City and "I noticed so many things that I have previously just walked past" commented Samantha on Facebook ). We're really delighted that our events added to the buzz of this year's very imaginative programme. According to The Herald the five-day event brought more than 90,000 people to the Merchant City (and counting).
In just two days our event also produced some great photographic answers which were displayed on the screen in the Apple store. The best images will be published on Walking Heads website and on our Facebook page.
In theory there were no winners – Apple store policy encourages participation rather than competition – but Walking Heads invited everyone back to MacSorleys for complimentary drinks (thank you Dewar's!), plus gifts of some prized new music CDs and feedback.
In return Austin provided us with some great ideas for the next quiz and we're already hatching plans for something more. As Andy Unger, manager of the Apple store says, "We've got the template for future events."
Meanwhile, in case you're still wondering about the answers to those questions at the start: Margaret McIver, 13th Note and The Tron. Of course you can gain many more musical facts at your fingertips when you download the Glasgow Music Tour.
Thanks to everyone who took part in the Merchant City musical quiz, all the staff at the Apple store, MacSorleys and Dewar's Whisky.